Digimon Con 2023 set for February 11, 2023
Featuring toys, card battles, video games, and more.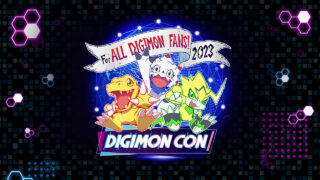 Bandai Namco will host Digimon Con 2023 on February 11, 2023 at 5:00 p.m. PT / 8:00 p.m. ET, the company announced. You will be able to watch it on YouTube.
Here is an overview of the event, via its official website:
About

Digimon Con 2023 is a celebration of all things Digimon! We're putting together a wide array of fun and exciting content for YOU, our fans all over the world who have been supporting Digimon for so many years!

Content

Toys – New information about Vital Bracelet app collaboration.
Card Battles – Japan vs. United States, and Japan vs. China.
Video Games – New video game information.
Anime – Panel by the cast of Digimon Ghost Game and Digimon Frontier.
Live Performances – Live performance by special guest.
Special News – Results of Digimon Illustration Competition 2023 initial judging.
Further details will be announced at a later date.