Retro-futuristic text adventure game OMEGA 6: The Video Game by F-Zero and Star Fox artist announced for Switch
Due out in 2023.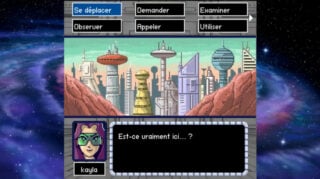 Happymeal has announced 16-bit-style retro-futuristic science-fiction text adventure game OMEGA 6: The Video Game for Switch. It is based on the manga OMEGA 6 written by Takaya Imamura, who was the main art director, character designer, and storywriter on the F-ZERO and Star Fox series. It will support English, French, and Japanese language options.
Rather than follow the story of the manga, the game will follow a completely original story, as well as feature a number of new characters who did not appear in the manga (in addition to established characters such as Thunder and Kyla). While it is a text adventure game at its core, it will also include battle scenes and other unique features and systems.
The game's art direction and graphics (illustrations, pixel art, etc.) are being handled by Imamura, while development is led by Mystery Guide series studio Happymeal.
Imamura left Nintendo in October 2021, and released the manga OMEGA 6 in October 2022. It is currently available for purchase in French only via Omake Books.
Here is a synopsis of the manga, via Omake Books (Google Translated from French):
After months of cryonic suspension in their spaceship, Thunder and Kyla are finally awake. They are bounty hunters, and the target they were chasing after has finally been located on an average planet. But just when they thought they'd make short work of him, their opponent Petrogaze turns out to be much tougher than expected…