Gunfire Reborn for Xbox Series launches in October
Also available via Xbox Game Pass.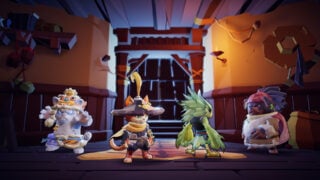 Gunfire Reborn will launch for Xbox Series in October, publisher 505 Games and developer Duoyi Network announced. It will also be available via Xbox Game Pass.
PlayStation 5, PlayStation 4, and Xbox One versions of Gunfire Reborn are also planned for release, but their release date has yet to be announced, a 505 Games representative told Gematsu.
The roguelite-inspired cooperative first-person shooter first launched for PC via Steam on November 18, 2021 following a six months Early Access period.
Here is an overview of the game, via 505 Games:
Gunfire Reborn features a booming blend of ability-based hero shooter and roguelite, all rendered in a striking cel-shaded aesthetic. Play solo or cooperatively with up to three other players in a highly replayable romp through gorgeous environments. Mix and match over 40 weapons, over 100 scrolls, powerful inscriptions, and Ascensions to craft builds from devastating Sharpshooters to magic-based Alchemists.

Gunfire Reborn's upcoming worldwide console release will implement broad language support, enabling players across the globe to enjoy the game together through four-player co-op. In announcing this distribution partnership, 505 Games and Duoyi Network are continuing a business relationship that began in 2017 with a similar distribution agreement for Portal Knights.
Watch a new trailer below.