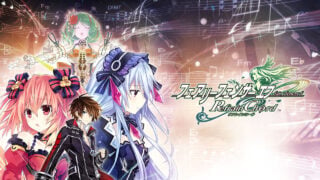 Publisher Compile Heart and developer Sting have released the debut trailer, information, and screenshots for newly announced strategy RPG Fairy Fencer F: Refrain Chord, which is due out for PlayStation 5, PlayStation 4, and Switch on September 15 in Japan.
Get the details below.
■ About the Game

The "F" Lineage Continues: Song Unlocks a New Battlefield Unlocks

Fairy Fencer F goes strategy RPG! Fairy Fencer F: Refrain Chord features an assortment of major characters from the series. Experience strategic battles featuring new characters called "Divas," as well as new Fencers and Fairies.

About the Fairy Fencer F Series

Fairy Fencer F is a fantasy RPG series set in a world in which the war between the Vile God and Goddess once occurred, and a young man named Fang, awakened as a Fencer that wields the fairy weapons known as Furies, goes on an adventure alongside the Fairy Eryn and girl Tiara in a story surrounding the gods.

■ Story

Long ago, civilization flourished due to the knowledge granted to the people by the Goddess. They erected towers that reached the heavens, and built weapons that could pierce even the gods.

However, the civilization soon perished in the war between the Vile God and Goddess.

And so, time passed… present day.

Fencers are warriors who wield special weapons that contain fairies. Fang, a young man and Fencer, goes on a journey with his companions in search of Furies in order to resurrect the Goddess.

One day, Fang encounters a girl who saves people through song, as well as a girl who brainwashes people through song.

Together with girls who call themselves "divas" and possess mysterious power, Fang's fate sets into motion…

■ Characters

■ Battle System

Is the song that echoes across the battlefield hope, or despair? A "tactical" new frontier for Fairy Fencer F brought about by song!

In Fairy Fencer F: Refrain Chord, highly strategic battles will unfold on fields with multiple levels of elevation. In addition to character direction, Fairize, and differences in elevation, the game's key feature is utilizing "songs" to gain the upper hand in battle.

—Boost Your Stats with Fairize

The strengthened state known as Fairize returns. By building up the gauge and activating Fairize, your stats will gain a significant boost. There are also special skills that can only be used during the Fairize state, and since each character has their own attack range and effects, understanding what makes them unique is the key to victory.

Greater Strategy through the Divas' Songs

The Fairy's song "Fairy Aria" is a special skill that can significantly strengthen all allies within a certain range. Since this only affects units within said range, it is important to position your Fairy and units near each other.

—Divas: Singing Songs with Special Effects

The songs of a diva, which are performed by various voices with the help of the fairy power contained in their microphone, can give allies various stat boosts and potentially turn the tide in battle.

—Resonance: When the Songs of Two Divas Friend and Foe Overlap

"Dramatic Resonance" occurs when the songs of two divas friend and foe overlap, doubling the effect of the song in the area where the songs meet. The songs blend together like musical discourse, creating a more dramatic and exciting state of battle with a dual-vocal track. Master the high-risk, high-return effect that boosts both ally and enemy characters!

■ Customization

Develop a Party All Your Own

Change character equipment, distribute points to partner fairies, strengthen and switch out sub-fairies, and develop a party all your own as familiar customization systems return—polished and improved.

■ World Shaping

World Shaping is a unique treasure hunt system in which you can discover a variety of treasures by stabbing a Fury into the ground on the world map and sending out an exploratory pulse. Discover rare equipment, items, and even new battle stages.

■ CG Images
Watch the trailer below. View the screenshots at the gallery. Visit the official website here.
Trailer
Screenshots