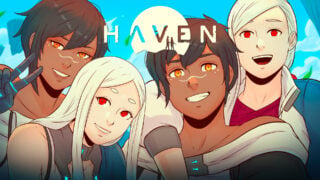 The Game Bakers has released a new update for romantic space adventure RPG Haven, which introduces same-gender couple alternatives.
After applying the update, players will be able to choose which Yu and Kay they want to play as. They can play as the existing Yu and Kay (woman and man), as two women (Yu and an alternate version of Kay), or as two men (Kay and an alternate version of Yu).
"Haven is about the freedom to love whomever you want," said creative director Emeric Thoa in a press release. "From the very early days of conception, we had created several couples for the game, with a diverse range of relationships. But the constraints of our indie team production made us focus on Yu and Kay only. After the game launch, we wanted to go back and work on this update. We hope that many players will feel better represented in the game."
The Game Bakers noted that the update does not alter the story arc for Haven, as players still take on the roles of Yu and Kay, but rather offers more options as to the composition of the couple.
Haven is available now for PlayStation 5, Xbox Series, PlayStation 4, Xbox One, Switch, and PC Steam, Epic Games Store, and GOG.
Watch a new trailer below.