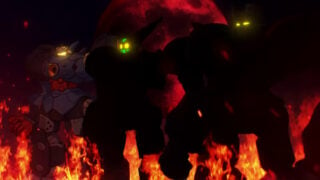 Level-5 will release "Free Update Vol. 3: Blue Lightning" for Megaton Musashi on February 24 at 10:00 JST, the company announced.
The update will add the new Druckter Titan, new Rogue Sparkman Wave, and new systems "Color Repaint," "Items-to-Credits," decals, and more.
In the future, "Free Update Vol. 4" will add a new color option for Authorizer, plus the new formidable foe "Crab Fusion Type S" and additional close-range weapons.
The company also announced that Megaton Musashi will feature a collaboration with Getter Robo and Mazinger Z, by which robots from each appears as Rogues (playable robots) in the game. Details will be announced at a later date.
Megaton Musashi is available now for PlayStation 4 and Switch in Japan. A demo is also available.
Watch a teaser trailer for the collaboration below.