Dragon Quest Keshi Keshi! pre-registration now available in Japan
Due out in 2021 in Japan.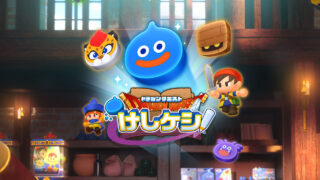 Publisher Square Enix and developer NHN PlayArt have opened pre-registration for puzzle game Dragon Quest Keshi Keshi! in Japan ahead of its 2021 release. Users can pre-register for iOS via App Store and Android via Google Play, as well as via e-mail, Twitter, and LINE.
Here is an overview of the game, via its store pages:
About

It's Dragon Quest with puzzles! The first puzzle game in the Dragon Quest series! Let's trace, match, and erase!

Key Features

Easy-to-Play Puzzles: Trace, Match, and Erase Drakeshi Characters – The familiar characters, monsters, and items of the Dragon Quest series reappear as "Drakeshi." Match three Drakeshi vertically or horizontally, and set off on an adventure while erasing the graffiti that has appeared in the adventure log.
Tons of Cute Drakeshi – Assemble tons of Drakeshi, each with their own skills, strengths, and weaknesses.
Set Inside an Old Adventure Log in a Certain Shop – The world of the adventure log is polluted by the monsters' graffiti, troubling its people. Gather and raise Drakeshi to erase the graffiti and protect the people of the adventure log world.
Watch a new set of gameplay videos below. View a new set of screenshots at the gallery Visit the official website here.
Gameplay Videos
Screenshots