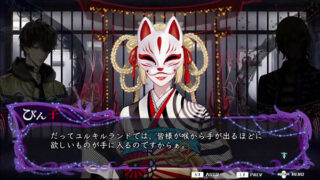 Publisher IzanagiGames and developer G.rev have released the Binko character trailer for "false charges escape adventure and bullet hell shoot 'em up" game Yurukill: The Calumniation Games.
Here is her character description, via IzanagiGames:
Binko (voiced by Yu Kobayashi) is Yurukill Land's kimono-clad, mask-wearing guide. She is polite, and old-fashioned in her speech, yet when dealing with the Prisoners, she's sharp-tongued and quick to ridicule. Variations of the phrase, "bin-bin," are her trademark. Under the auspices of Yurukill Inc., she oversees the games offering the Prisoners a chance for acquittal at Yurukill Land.
Previous trailers introduced Sengoku Shunju and Rina Azami.
Yurukill: The Calumniation Games is due out for PlayStation 5, PlayStation 4, Switch, and PC via Steam in spring 2022.
Watch the trailer below.