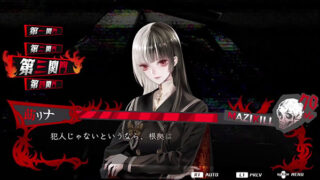 Publisher IzanagiGames and developer G.rev have released the Rina Azami character trailer for "false charges escape adventure and bullet hell shoot 'em up" game Yurukill: The Calumniation Games.
Here is her character description, via IzanagiGames:
Rina (voiced by Saori Hayami) is strikingly pretty but has trouble expressing herself, and is brusque and cold to everyone she meets. She often shows extraordinary hatred towards Sengoku. Her reasons for taking part in the Yurukill Games are unknown.
The previous trailer introduced Sengoku Shunju.
Yurukill: The Calumniation Games is due out for PlayStation 5, PlayStation 4, Switch, and PC via Steam in spring 2022.
Watch the trailer below.