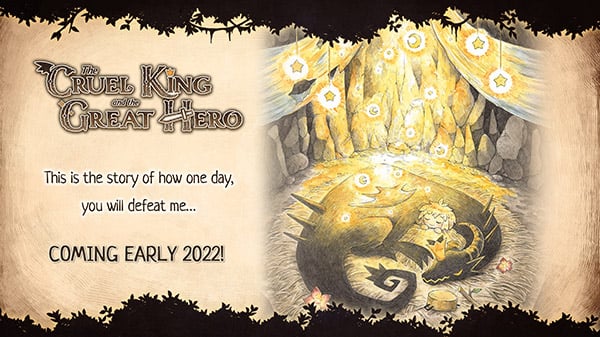 NIS America will release The Cruel King and the Great Hero, previously referenced on Gematsu as The Wicked King and the Noble Hero, for PlayStation 4 and Switch in the west in early 2022, the company announced.
Pre-orders for a "Storybook Edition" (PS4, Switch) and "Treasure Trove Bundle" (PS4, Switch) are available now at NIS America Online Store for $59.99 and $104.99, respectively. Both include a copy of the game, collector's box, "Adventures of the Great Hero" hardcover art book, "Scores of Bravery" digital soundtrack, and six-inch "Great Hero" plush, while the latter also includes an 8.25-by-11.75-inches acrylic puzzle and eight-inch dragon plush.
Here is an overview of the game, via NIS America:
About

A young girl named Yuu embarks on an adventure to become a great hero. By her side is a fearsome beast known as the Dragon King, who guides and protects her. However, the truth of the dragon king's past will soon rear its ugly head, threatening the peaceful life they've enjoyed until now. Explore charming settings, overcome monsters and puzzles, and discover a story of companionship, heroism, and facing the past!

Key Features

Allies in Adventure – No challenge is too great with your mighty protector waiting in the wings. Fight monsters and navigate perilous environments, with an occasional helping hand, of course!
A Living Storybook – With a charming soundtrack, artistic inspirations drawn from children's storybooks, and classic 2D scroller visuals, this adventure is as much a treat to play as it is to look at.
Heroic Discoveries – Collect hiddens items throughout the land to unlock goodies in the in-game gallery, including character profiles and behind-the-scenes illustrations!
The Cruel King and the Great Hero first launched for PlayStation 4 and Switch on June 24 in Japan. Read more about the game here, here, here, here, and here.
Watch the announcement trailer below. Visit the teaser website here.