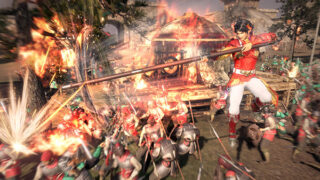 Taiwanese website has published an 11-minute direct-feed gameplay video of the Dynasty Warriors 9 Empires floor demo playable on PlayStation 5 at ChinaJoy 2021.
The website also published a short interview with producer Akihiro Suzuki, who shared that the PlayStation 5 and Xbox Series versions of Dynasty Warriors 9 Empires feature both a native 4K resolution visual mode and a 60 frames per second action mode. Load times are also faster.
Dynasty Warriors 9 Empires is due out for PlayStation 5, Xbox Series, PlayStation 4, Xbox One, Switch, and PC via Steam in 2021 worldwide. Read more about the game here.
Watch the footage below.