Earth Defense Force 6 second trailer, 13 minutes of gameplay
Platform still unannounced.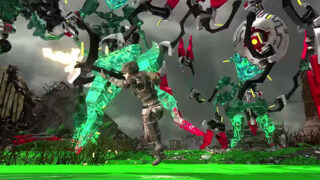 D3 Publisher and developer Sandlot have released the second trailer for Earth Defense Force 6, as well as premiered 13 minutes of live gameplay during the game's first official live stream.
Earth Defense Force 6 is due out for unannounced platform(s) in 2021 in Japan. It should be noted that a box was placed in front of producer Nobuyuki Okajima during the Earth Defense Force 6 gameplay segment of today's live stream, hiding his controller. This was not done during the Earth Defense Force 2: Invaders from Planet Space for Nintendo Switch gameplay segment. This may have been prompted by Okajima last being seen using a PlayStation 4 controller to demonstrate the game back at Tokyo Game Show 2020 Online in September 2020.
If you missed our previous coverage, read more about Earth Defense Force 6 here and here. Watch 10 minutes of gameplay here.
Watch the trailer and gameplay below.
Trailer #2
Gameplay
(Gameplay available from 57:30 to 1:10:35.)