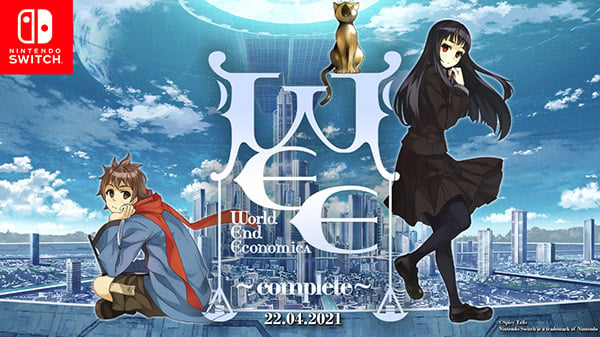 Publisher Sekai Games and developer Spicy Tails will release WORLD END ECONOMiCA ~complete~ for Switch via the Nintendo eShop on April 22 for $29.99 / €24.99 / 3,300 yen, the companies announced. Pre-orders begin on April 16 with a 15 percent-off discount. It includes all three episodes of WORLD END ECONOMiCA in one package.
Although Sekai Project announced in July 2016 that it would bring WORLD END ECONOMiCA to PlayStation 4 and PS Vita (and reconfirmed in June 2019), a Sekai Games representative told Gematsu that while the PS Vita version is definitely no longer planned, it cannot to commit to a PlayStation 4 version at present.
"As for the PlayStation 4 version, we cannot confirm that at this time," a Sekai Games representative said. "It took more effort than we imagined to get the Nintendo Switch version done especially considering how we weren't able to deliver on a PlayStation Vita version before the end of its shelf life. Once the dust settles, we'll consider our options."
Update 04/16/21 at 9:15 a.m.: A Sekai Games representative has reached out to Gematsu to clarify that a PlayStation 4 version is still planned and due out later in 2021, including a physical edition distributed by Limited Run Games.
"A PlayStation 4 version is coming later in the year," the representative said. "We couldn't get all the technical issues fixed on the PlayStation 4 in time for the Switch release so we just pushed it back a little bit so we could focus on squashing all the little bugs. It will be the same as the Switch version. But it is absolutely coming to PlayStation 4."
The title of the post has been updated to reflect this new information.
Here is an overview of WORLD END ECONOMiCA ~complete~, via Sekai Games:
In the far future on the moon, humans have begun to colonize it. A young boy named Haru has been chasing his wildest dream. His dream is to stand where no man has stood before, and in order to do so he needs capital, a ludicrous amount of capital. What better place to get that amount of capital by using the stock market? There are two key rules that govern the stock market.

The First Rule: Never take a loss.
The Second Rule: Never forget the first.

Only those who follow these rules are able to obtain enormous wealth…

Finally, the three episodes of WORLD END ECONOMiCA are collected in one game, allowing you to enjoy the entire story!
Watch a trailer below.