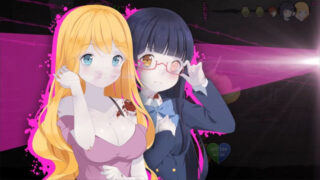 Sekai Games announced several new console titles at E3 2019, including a Switch port of Regista's Root Double: Before Crime After Days, a PlayStation 4 revival of Mr. Tired Media's Undead Darlings: No Cure for Love, and updated release windows for previously announced projects such as WORLD END ECONOMiCA and Narcissu for consoles.
Get the details below.
Developer: forgevision, Sekai Games, Mighty Rabbit Studios
Platform: PlayStation VR
Release Date: June 2019

The crime… is murder.

The story takes place in a court trial, set in a futuristic world where most humans have cyberbrains. The defendant on trial is an agent who coordinates with artists to create the data for cyberbrains to interact with people's emotions. The victim is a girl artist named Lux. The jury has to investigate what really happened by reliving the memory data of the defendant.

The multi-end virtual reality adventure will finally be available worldwide on PlayStation Network in late June 2019.

Root Double: Before Crime After Days

Developer: Regista
Platform: Switch
Release Date: Winter 2019

The year is 2030. Business is as usual in the isolated research city of Rokumei—that is, until several explosions suddenly go off in the nuclear research facility known as "LABO." The city sends in "Sirius," an elite rescue squad, to deal with the situation. But the situation only gets worse when LABO's nuclear reactor melts down, sending the facility into lockdown—with members of Sirius and survivors still trapped inside.

With lethal radiation leaking everywhere and not enough anti-radiation medication to last until lockdown lifts, the survivors make discoveries that are more and more grim. In their struggle for survival, in a deathtrap full of fire and radiation, they learn that doubt is their greatest enemy, and trust their greatest asset.

The incredible adventure game from Japanese studio Regista is finally coming to Switch in cooperation with Sekai Games, and will be available on the Nintendo eShop in winter of 2019.

Developer: Alice in Dissonance, Sekai Games
Platform: Switch, PlayStation 4, PS Vita
Release Date: Summer 2019 (Switch) / Fall 2019 (PlayStation 4, PS Vita)

Who were the attackers and what was their goal?

Where did Selphine and Ritona end up?

Will the two make it home safely?

And more importantly, what has happened to their homeland?

Follow Selphine, the bubbly, happy-go-lucky Princess and her sharp-witted but slightly misanthropic Royal Guardian Ritona, on their journey of a lifetime back to their homeland of Rughzenhaide.

The long-awaited console version of the Fault series comes to Switch this summer! Featuring brand new music and artwork, this version of Fault is the most beautiful and crisp adventure yet, and is sure to be one of the best visual novels available on consoles so far. The PlayStation 4 and PS Vita versions will be available this fall!

Tokyo Chronos

Developer: MyDearest
Platform: PlayStation VR
Release Date: August 2019

An empty, deserted Shibuya where time has frozen over. A suspenseful mystery woven by eight childhood friends trapped inside.

Lost memories; A strange message: "I am dead. Who killed me?"

Who is "I"? Why did we lose our memory? Who is the killer?

Fragments shattered like a broken mirror.

Where does the truth lie?

To kill, or not to kill ─ YOU decide.

Featuring the all-star staff of Haruki Kashiwakura (Expelled from Paradise), Kou Segawa (Kimi ni Korosareta to Shitemo), Kazuma Miki (Sword Art Online), MyDearest delivers one of the most engaging and unique adventures ever in VR! Tokyo Chronos will be available worldwide in August 2019.

Developer: Studio Elan, Sekai Games
Platform: Switch
Release Date: Q1 2020

Maddie Raines has had enough. After years of serving as manager, editor, and general business-handler for her best friend Tara's popular paranormal vlog channel, she's finally ready to move forward with her own life. But when she agrees to take one last trip with Tara to the mysterious village of Eysenfeld, she's suddenly swept up in a dangerous supernatural crisis that will change the course of both of their lives forever.

Heart of the Woods is coming exclusively to the Switch eShop, bringing Studio Elan's emotional smash hit to the console for the very first time.

WORLD END ECONOMiCA

Developer: Spicy Tails, Sekai Games
Platform: Switch, PlayStation 4, PS Vita
Release Date: Winter 2019

Set in the far future on the moon, 16 years after humans have begun to colonize it. A young boy named Haru has been chasing his wildest dream. His dream is to stand where no man has stood before, and in order to do so, he needs capital, a ludicrous amount of capital. What better place to get that amount of capital by using the stock market? There are two key rules that govern the stock market.

The first rule: Never take a loss.

The second rule: Never forget the first.

Only those who follow these rules are able to obtain enormous wealth…

The full collected package of Hasekura Isuna's riveting adventure novel will come to Switch, PlayStation 4, and PS Vita in winter of 2019.

Narcissu: Lumiere Eternelle Edition

Developer: Sekai Games
Platform: Switch, PlayStation 4
Release Date: Winter 2019

"Life is like a waiting room, except people don't leave in the order they enter."

So when it is time to leave, where will it be? And will you be able to smile in the end?

Narcissu is a thought-provoking visual novel series about terminal illness, living, dying, and the relationship between those leaving and those left behind. There are no miracles, no heroes, no villains in this story. Just life and the characters finding their own ways of facing death in an indifferent, relentless, ever-impartial reality.

Featuring music from two video game legends: Chris Huelsbeck of Turrican fame, and Hiroki Kikuta of Secret of Mana fame, this console edition collects all stories from the official Narcissu series into one game.

Undead Darlings: No Cure for Love

Developer: Mr. Tired Media
Platform: PlayStation 4
Release Date: Q4 2019

Undead Darlings: No Cure for Love is a happy-go-lucky dungeon-crawling visual novel RPG about a group of zombie girls and Reginald "Reggie" P. Happenstahnce.

Reggie's father was involved in the creation of the zombie virus and gave his son the only known cure along with this command: "Take this cure to where it can be mass produced."

Since they don't know how to use the cure in its current state, the zombie girls and Reggie travel together throughout a funpocalypse wasteland where they explore dungeons, fight weird monsters, and learn more about one another along the way.