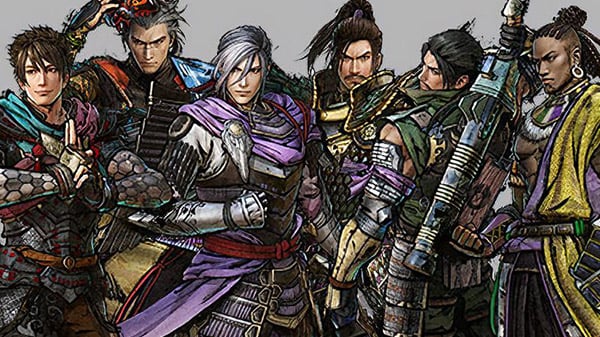 Nobunaga Oda (Mature), Mitsuhide Akechi (Mature), Hanzo Hattori, Sandayu Momochi, Magoichi Saika, and Yasuke will be playable characters in Samurai Warriors 5, publisher Koei Tecmo and developer Omega Force announced.
Get the details below.
Nobunaga Oda (Mature) (voiced by Nobunaga Shimazaki)

The head of the Oda family.

In order to topple the rules set forth by the turbulent era he lives in, he cast aside his compassion for his enemies and became "The Demon King." Alongside his right-hand man Mitsuhide, he aims to reform all of Japan.

Mitsuhide Akechi (Mature) (voiced by Hikaru Midorikawa)

The Oda family's retainer.

He pledges to put an end to this troubled era by working alongside Nobunaga, who has now prepared to become "The Demon King." Like Nobunaga, Mitsuhide has also cast aside his emotions and now conducts himself in a cool and calculated manner.

Hanzo Hattori (voiced by Takaya Kuroda)

Chief retainer of the Tokugawa family.

A ninja that was once a member of the Iga Ninjas. He currently serves the Tokugawa family. He works to support the young head of the Tokugawa family, Ieyasu, and has an inseverable connection with Sandayū Momochi which extends back to when he was a member of the Iga Ninjas.

Sandayu Momochi (voiced by Kenjiro Tsuda)

The head of the Iga Ninjas.

A friendly and laid-back ninja. After he began to work with the Oda family through Hideyoshi, he began to undertake Nobunaga's dirty work after becoming affiliated with him. Hideyoshi looks up to him like an older brother, as their friendship goes back a long way.

Magoichi Saika (voiced by Hiroshi Isobe)

The head of the Saika mercenaries.

A professional mercenary that always completes any request he undertakes. He has the ability to survive any battle or assassination attempt, and has no interest in the concept of good and evil. He has no particular loyalty to anyone.

Yasuke (voiced by Paddy Ryan)

Nobunaga's retainer.

After becoming intrigued by Nobunaga's commanding presence, Yasuke became employed by him as a samurai. While he is from a foreign country, he has mastered the Japanese language. He is genuine in nature and firmly stands by Nobunaga, regardless of his lone wolf tendencies.
Samurai Warriors 5 will feature a total of 27 playable characters (plus the Mature versions of Nobunaga Oda and Mitsuhide Akechi), all of which were chosen based on the story.
The full list of playable characters is now fully revealed:
Hanbei Takenaka
Hanzo Hattori
Hideyoshi Hashiba
Hisahide Matsunaga
Ieyasu Tokugawa
Kagetora Nagao
Kanbei Kuroda
Katsuie Shibata
Kazuuji Nakamura
Nagamasa Azai
Magoichi Saika
Mitsuhide Akechi (Youth / Mature)
Mitsuki
Motonari Mori
No
Nobunaga Oda (Youth / Mature)
Oichi
Sandayu Momochi
Sena
Shikanosuke Yamanaka
Shingen Takeda
Tadakatsu Honda
Takakage Kobayakawa
Toshiie Maeda
Toshimitsu Saito
Yasuke
Yoshimoto Imagawa
Samurai Warriors 5 is due out for PlayStation 4, Xbox One, and Switch on June 24 in Japan, followed by PlayStation 4, Xbox One, and Switch in the west and PC via Steam worldwide on July 27. News of the Xbox One version's simultaneous release in Japan was announced today.
Watch the second official trailer and latest gameplay footage below. View a new set of screenshots at the gallery.
Trailer #2 (Character Trailer)
English
Japanese
Samurai Warriors 5 Official Program #3 Archive
23:13 to 24:04 – Sena Cutscene
26:33 to 29:24 – Sena Gameplay
40:43 to 41:19 – Sandayu Momochi Cutscene
46:05 to 50:50 – Sandayu Momochi Gameplay
53:13 to 56:00 – Scenario Selection Gameplay
57:14 to 57:44 – Katsuie Shibata Gameplay
59:23 to 1:00:26 – Mitsuhide Akechi Cutscene
1:01:51 to 1:05:37 – Trailer #2 (Character Trailer)