Raiden IV x MIKADO remix coming to Switch on April 22, 2021 in Japan
A collaboration with Mikado Game Center.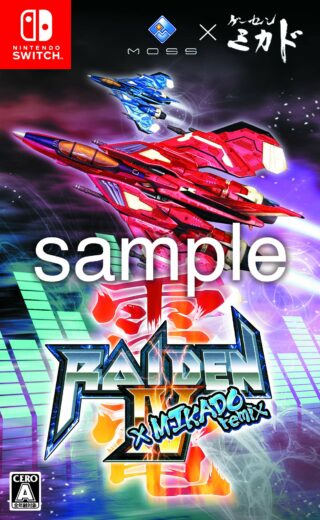 Moss will release Raiden IV x MIKADO remix for Switch on April 22, 2021 for 4,180 yen in Japan, the developer announced. Pre-orders are available now at retailers such as Amazon, Biccamera, and Yodobashi reveal.
A limited edition including a new arrangement background music soundtrack CD, as well as a reprint of the original soundtrack CD "Raiden IV: Ultimate of Raiden," all packaged inside a special box, will also be available for 7,480 yen.
Raiden IV first launched for arcade in June 2007, followed by Xbox 360 in October 2008, PlayStation 3 as Raiden IV: OverKill in May 2014, and PC via Steam in September 2015.
Here is an overview of Raiden IV x MIKADO remix, via its retail listings:
About

Raiden IV, the popular shoot 'em up arcade and console game, debuts on Switch with remixed background music by a superb lineup of artists produced by Mikado Game Center. Al stages and boss tracks, 16 wonderful tracks, are newly reborn through live performances and new arrangements.

Artists include: Go Sato Band, Heavy Metal Raiden, Fantom Iris, O.T.K., Soshi Hosoi, Daisuke Matsumoto (Cave), Hirokazu Koshio, and Keishi Yonao.

Key Features

New Elements for Switch – With the ability to switch between the "Mikado Remix" background music set and the "Original" background music set, as well as the "Sound Mode" and "Stage Background Music Select" functions, you can enjoy the new sounds of Raiden to your heart's content. Additionally, the game supports vertical screen play in both table and TV modes, recreating the full arcade experience.
A Full Suite of Game Modes – "Arcade Mode," which is a complete port of the arcade game, as well as "Additional Mode" and "Overkill Mode," which include the stages added for console, have been perfectly reproduced. Various other game modes are also available, including "Boss Rush Mode," a series of battles against boss weapons, and "Score Attack Mode," where you compete for the high score on a single stage.
Online Functionality – Compete against other players on the worldwide leaderboards in "World Ranking Mode." You can also upload your gameplay online via "Replay Publish," allowing you to show your recorded gameplay to the world and study the gameplay of your rivals. Use the online functionality to discover a strategy all your own.
Visit the official website here.