Super Mario Bros. 35th anniversary and Super Mario 3D All-Stars Japanese TV commercials
Four new ads from Nintendo.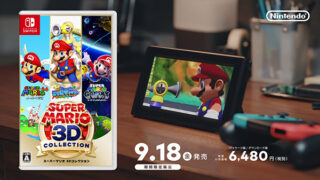 Nintendo has released a series of Japanese TV commercials for Super Mario Bros.'s 35th anniversary and the newly announced Super Mario 3D All-Stars.
Super Mario 3D All-Stars includes Super Mario 64, Super Mario Sunshine, and Super Mario Galaxy, and is due out for Switch on September 18 worldwide. It will only be available for purchase until March 31, 2021.
Watch the TV commercials below.
Super Mario Bros. 35th Anniversary
https://www.youtube.com/watch?v=FrRS3x6aNnw
Super Mario 3D All-Stars
Super Mario 64 Edition
https://www.youtube.com/watch?v=BoKm5cU5JeI
Super Mario Sunshine Edition
https://www.youtube.com/watch?v=_Xho0gYA2pU
Super Mario Galaxy Edition
https://www.youtube.com/watch?v=L7jxcTDjjGQ