Kemco and Water Phoenix announce new visual novel themed around 'full-dive online game'
Due out in 2021 in Japan for unannounced platforms.
Publisher Kemco and Saiaku Naru Saiyaku Ningen ni Sasagu developer Water Phoenix have announced a new, untitled visual novel game. It will launch in 2021 in Japan for unannounced platforms.
Here is an overview of the story, via Kemco:
The game is set in a world where civilization has fallen to "Original Sin," a disease of unknown origin that attacks the afflicted with nightmares and hallucinations, eventually driving them mad. The only way to stop the advancement of the disease is to login to the full-dive online game "Archetype Arcadia," a remnant of the past.

The protagonist Rust's younger sister Christine, who is one of the afflicted, genuinely enjoys this game where her memories take the form of her avatar and she fights, but one day does not return from being logged in.

Even those able to control the symptoms of the disease need to log out of the game, otherwise their body will decay.

Rust dives into the game to save his sister, and after numerous encounters, farewells, and battles, will come face to face with what happened to his sister and the truth of the world…
The game's scenario and graphics are being handled by "R" of Water Phoenix, whose previous works include Saiaku Naru Saiyaku Ningen ni Sasagu and Stand By You. The scenario script is currently about 60 percent complete.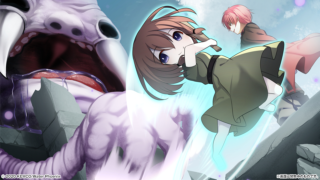 The new visual novel was first teased at Tokyo Game Show 2019 under the tentative title Shuumatsu Senki 0.1 alongside Death Match Comedy Club! and a third title.
Further details were not announced.