Kemco announces three new visual novels: RD, Shuumatsu Senki 0.1, and DMLC_R
Announced by pamphlet at Tokyo Game Show 2019.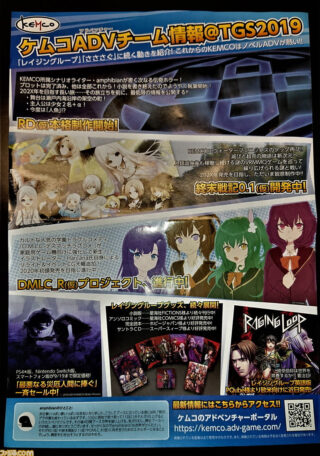 Kemco has announced three new visual novel games in development via a pamphlet handed out at its booth at Tokyo Game Show 2019, which is currently running at the Makuhari Messe in Chiba, Japan until September 15.
Here are the details:
RD (title tentative)

The next romance horror game written by Kemco scenario writer Amphibian. The plot is already complete, so he's tackling everything else from here on. Amphibian is finished with writing his novel, so he finally started working on this. Before departing on this long journey to 202X, we are disclosing the bare minimum information.

The story is set in a fictitious town on the coast of the Seto Inland Sea.
The protagonists are two girls + more.
A "mermaid"!?

Full-fledged development on RD has begun!

Shuumatsu Senki 0.1 (title tentative)

Another Kemco x Water Phoenix tag team production! A story of destruction and overcoming that travels to a new dimension. Battle against the mystery that unfolds over the mysterious virtual reality MMO game that continues to operate even after humanity's downfall. The game is currently in development with plans for a 202X release.

DMLC_R (title tentative)

The popular cult classic school trouble comedy game D.M.L.C.: Death Match Love Comedy is enhanced and reborn for console!? And with redrawings by illustrator Harcana (Haruka Natsuki) herself and a significant number of additional event CG! It is planned for release in early 2020.
Thanks, Famitsu.