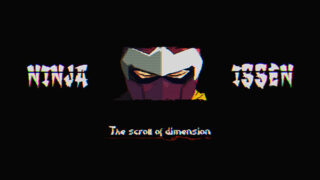 Publisher CFK and developer Asteroid-J have announced Ninja Issen, a "cyberpunk hyper ninja action adventure" game due out for Switch and PC via Steam in 2021.
Here is an overview of the game, via CFK:
Cyberpunk + Hyper Action + Ninja

Ninja Issen is Asteroid-J's game that features hyper ninja action adventure in the cyberpunk world.

Clear Your Name and Save the Princess, Time Traveler Ninja

You, "Kiba," as a ninja, has been falsely accused. You failed to save the princess, the only one who could restore your honor, and warped to the other world with her. Now you stand in the middle of the metropolis surrounded by neon lights and holograms. You, "Kiba," must slash through mysterious foes and find the princess. Save her, and find a way to return to your home!

Unleash Your Hyper Ninja Skills in One-versus-Many Fights

Offense is the best defense. Throw yourself into the enemies and cut them down! Unleash your ninja skills with katana, kunai, and ninjutsu! You, "Kiba," will be tested in the endless fight. Cut your way like thunder through the enemies!

Stand Against Bosses with Rapid Action

You, "Kiba," must use everything in your hands against powerful foes. Look for your chance under the fierce moves of gigantic bosses, and sting like a bee and cut off their limbs!
Watch the announcement trailer below. View the first screenshots at the gallery.