Dragon Quest Monsters 2: Iru and Luca's Marvelous Mysterious Key SP now available in Japan
3DS game comes to mobile with new features.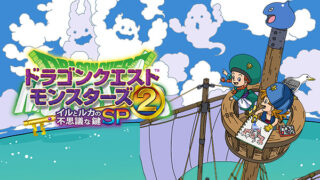 Dragon Quest Monsters 2: Iru and Luca's Marvelous Mysterious Key SP is now available for iOS via the App Store and Android via Google Play in Japan for 1,960 yen.
As previously announced, the iOS and Android versions of the monster raising RPG offer the following new features:
Optimized for Smartphones – Like Dragon Quest Monsters: Terry's Wonderland SP, Dragon Quest Monsters 2: Iru and Luca's Marvelous Mysterious Key SP has been optimized for smartphones, allowing you to play comfortably and entirely with one hand.
Numerous New Monsters Added – Over 900 monsters appear, including monsters from a number of titles such as the latest numbered entry in the series, Dragon Quest XI: Echoes of an Elusive Age, so be sure to look out for your favorites.
Auto Battle and Auto Exploration – By enabling "Auto Battle" in the settings, when you encounter a monster, the battle results screen will appear immediately without taking any action. You can also utilize "Auto Exploration" at fixed intervals to automatically progress to the depths of a designated dungeon. You will still obtain experience points and gold through both of these features.
Use Creststones to Strengthen Monsters – As you progress through the game, you will receive "creststones" from a certain character. By using one on a friendly monster, you can power up any one special trait per monster. Creststones can be obtained in a variety of places.
New Post-Game Element: "The Phantom's Key" – By clearing the entirety of the story, you will receive "The Phantom's Key," which unlocks a new door. By overcoming the clear conditions of this world, you may be able to obtain wonderful items and monsters. This is a highly challenging post-game element that even users who have played this world inside-out can enjoy.
Battle Against Other Players' Parties – In the "Online Masters of Another Land" mode, the masters of other lands are downloaded daily to a dedicated arena, allowing you to battle against them. Additionally, in the "Battle Against Other Players" mode, you can battle your party against the parties of friends and strangers in real-time battles. (Real-time battles requires the purchase of a "Battle Pass.")
Watch the launch trailer below. Visit the official website here.