Monster Rancher 2 for Switch, iOS, and Android first details, screenshots
Due out this fall in Japan.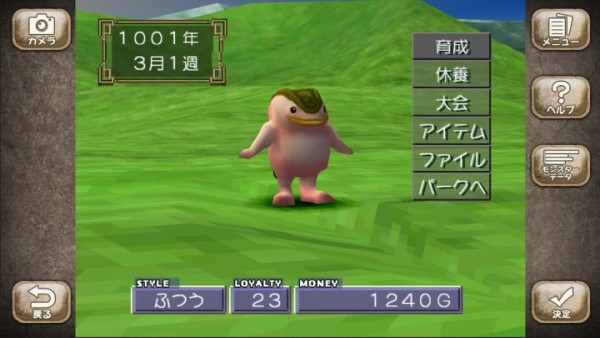 Koei Tecmo has released the first official information and screenshots for the newly announced enhanced port of Monster Rancher 2 due out for Switch, iOS, and Android this fall for 2,820 yen in Japan.
Get the details below.
The Fun of the Original Game Returns

Enjoy a Monster Rancher 2 significantly enhanced from the original Monster Rancher for Switch, iOS, and Android. Various elements and content have been enhanced, including 3D graphics, the "Part-Time Job" mini-game, and an increase in the total number of monsters from 200 to 400, the largest amount in the series. The "Slate Reproduction" feature from the original game also returns, allowing players to import their monsters from Monster Rancher into Monster Rancher 2.

*The method of monster reproduction via "Slate Reproduction" differs between the Switch and iOS / Android versions of Monster Rancher 2. You can only import monsters from the same platform. Depending on the type of monster, they may also change to a different type.

Enhanced from the Original

The port of the original Monster Rancher had bug fixes and fine-tuning from the original PlayStation release, and Monster Rancher 2 will go even further in that respect. Koei Tecmo gathered improvement feedback from series fans via the Monster Rancher series official Twitter account, and some of that feedback will be apparent in the game. The fun of the original game remains, but now with greater ease of play.

Enhanced Battles

In addition to downloading and battling against monsters raised by other players, features such as the Bluetooth controller support and tournament mode added to the port of the original Monster Rancher post-release will be supported in Monster Rancher 2 at launch. Enjoy genuine monster battles. Also, like the first game, the Switch version supports local two-player battles with one Joy-Con per player.

More "Music Reproduction"-Generated Monsters Added

"Disc Stone Reproduction," Monster Rancher's key feature that lets you create monsters from CDs, was reproduced via a "Music Search" database for the port of the original Monster Rancher, and that database returns for Monster Rancher 2. Even if you do not own the CD itself, you can enjoy monster reproduction by inputting the music information. With 20 years of music and the largest number of monsters in the series, you can enjoy creating monsters with twice the effect.

Now Accepting Monster Requests

From July 9 to 27, Koei Tecmo will be running a "I Want this Monster to be Born from this CD" campaign, which invites users to combine "artist and song title" with "monster born from CD" on a special website. If you are lucky, the ideas you submit during the campaign may be adopted in the actual game.
View the screenshots at the gallery.