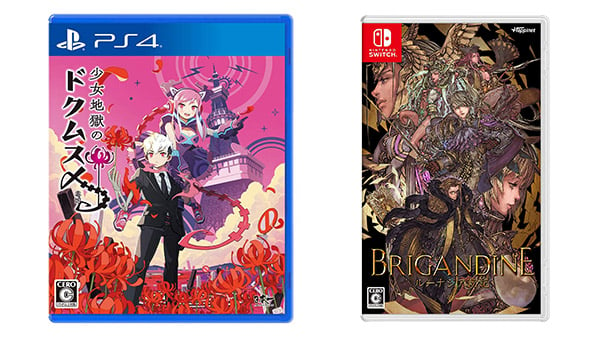 Brigandine: The Legend of Runersia and Shoujo Jigoku no Doku Musume are the highlights of this week's Japanese video game releases.
The first new entry in the Brigandine series in 20 years, Brigandine: The Legend of Runersia is a grand strategy simulation game set in the continent of Runersia, which is home to six major powers with more than 40 bases, 100 knights, and 50 types of monsters. Players select a ruler, organize platoons of knights and monsters, and march to claim enemy bases. A demo is currently available via the Nintendo eShop.
Shoujo Jigoku no Doku Musume is a third-person shooter / action RPG developed by Nippon Ichi Software. It is set in "Maiden Hell," where girls captured by strong emotions, desires, and obstructive thoughts fall. The protagonist ends up here and has his body partly overtaken by a girl who calls herself the "Poison Maiden." He must work alongside her to purify hell and determine why he ended up there, as well how to escape.
Get the full list of this week's Japanese game releases below. It should be noted that Gematsu will receive a small percentage of money from purchases made through Play-Asia links. You can also save five percent using our "GEMATSU" coupon code.
Physical and Digital
Brigandine: The Legend of Runersia (Switch) – Multi-language. Launching digitally worldwide.
Death Match Love Comedy! (PS4)
Journey to the Savage Planet (PS4) – Already available worldwide.
Mr. Driller DrillLand (Switch) – Multi-language. Launching digitally worldwide.
Remnant: From the Ashes (PS4) – Already available worldwide.
Summer Pockets Reflection Blue (PC)
Digital-Only
Azure Striker Gunvolt 2 (PC [Steam]) – Launching worldwide.
Death Come True (Switch, iOS, Android) – Launching worldwide.
Death Match Love Comedy! (Switch, PC [Steam])
Double Dragon & Kunio-kun Retro Brawler Bundle – Downtown Special: Kunio-kun's Historical Period Drama! (Switch)
Duke Nukem 3D: 20th Anniversary World Tour (Switch) – Launching worldwide.
Grisaia: Phantom Trigger Vol. 1 & 2 (Switch) – Multi-language.
Hotch Kiss (PS4)
Kiss Ato (PS4)
Kiss Bell (PS4)
Little Witch Nobeta Early Access (PC [Steam]) – Launching worldwide.
Missile Hunter (Switch) – Launching worldwide.
Mr. Driller DrillLand (PC [Steam]) – Launching worldwide.
Ninjala (Switch) – Launching worldwide.
Pokemon Cafe Mix (Switch, iOS, Android) – Launching worldwide.
Smoots Summer Games (Switch) – Already available worldwide.
SpongeBob SquarePants: Battle for Bikini Bottom – Rehydrated (Xbox One, PC [Steam])
The PlayStation 4 or Switch titles listed above can be purchased through Japanese PlayStation Network and Nintendo accounts using prepaid cards: