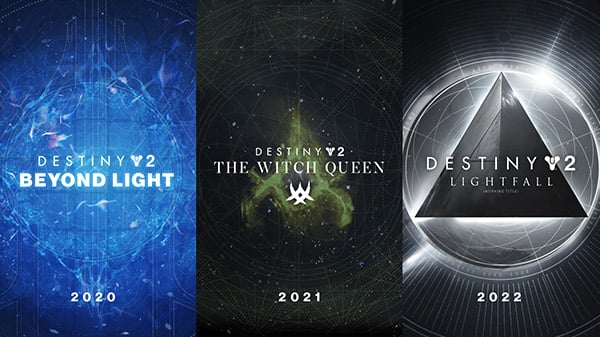 Bungie has announced the next three expansions for Destiny 2, which will begin with Destiny 2: Beyond Light on September 22, followed by Destiny 2: The Witch Queen and Destiny 2: Lightfall in 2021 and 2022, respectively.
The developer also announced the Destiny Content Vault. Since Destiny 2 has become "too large to efficiently update and maintain," instead of building a Destiny 3 and leaving Destiny 2 behind, Bungie has decided to cycle older and less played content out of the live game and into the Vault, allowing the developer to add to and support Destiny 2 for more years to come. The Destiny Content Vault will include all content from Destiny 1 and anything that cycles out from Destiny 2. Certain activity and destination content will be brought back from the Vault each year.
Here is an Bungie's full post on the future of Destiny 2:
Building a Viable Future in Destiny 2

Earlier today, we laid out a vision for Destiny's future, built right inside of Destiny 2. A future where we maintain your characters, accounts, and continuity with our game systems and build on each of them for years. This fall ushers in a new era in Destiny's journey, launching off a trilogy of expansions where your Guardians will explore the true nature of Light and Dark:

Put plainly, we are investing in Destiny 2 for years to come. But to continue your Guardian's journey and deliver on this roadmap, we need to make some changes to our ever-growing world so it can flourish.

The Limits of Growth

Over the past couple months, we've mentioned the problems that come with maintaining a game the size of Destiny 2; and we've said that it cannot grow infinitely. After three years of non-stop growth, the scope and complexity of Destiny 2 has ballooned to unprecedented scale.

As of this writing, Destiny 2 features nine destinations, 40 story missions, 54 adventures, 42 Lost Sectors, 17 strikes, 31 PvP maps, 12 one-off special activities (like Menagerie or Zero Hour), seven raids, six Gambit arenas, three dungeons, many, many quests, patrols, public events, and of course, thousands of associated rewards. All of that, plus hundreds of game systems which layer on top of that content.

This unrelenting growth has resulted in a game that requires players to download up to 115GB to play, as well as huge patches tied to frequent updates. And those numbers are rising rapidly, as we've been adding approximately 25GB of content each year to Destiny 2 since launch. Those sizes not only stress hard drive capacity but also push the limits of patching capability. It also makes the time to generate a stable update for the game after all content is finalized, tested, and ready to go balloon to literal days instead of hours.

Worse still, that 115GB includes a lot of content that isn't relevant anymore—and can't remain relevant—as we evolve the world and introduce new experiences that will take center stage instead. For example: Warmind's campaign represents only 0.3% of all time played in Season of the Worthy and yet the Warmind Expansion accounts for 5% of our total install size. This dramatic imbalance between player engagement and overall cost to maintain is found in a lot of our legacy content.

Impact on the Live Game

Maintaining that much content in perpetuity slows down our ability to update the game with fresh experiences, reduces our ability to innovate, and delays our reaction to community feedback. The test surface alone is massive, to say nothing about how it impacts our designers, artists, and engineers trying to make cool new stuff every day under the weight of the crushing complexity of our scale.

Unfortunately it also means that we sometimes ship content that doesn't meet the quality bar we've set for ourselves and that our players have come to expect. Recent examples are the issues with Felwinter's Lie quest or when we had to perform our first-ever rollback of player progress due to a bug.

Our ambition is for Destiny 2 to be the best Action MMO in the world and that means being far more agile and nimble than we are today. But the simple fact is that our game's size and complexity prevents us from improving Destiny as fast as we—and you—would like.

The "Destiny Content Vault"

With Destiny 1, we solved the "ever expanding, exponential complexity" problem by making a sequel in Destiny 2. We left behind all of Destiny 1's content and many of the features players grew to love. We believe now that it was a mistake to create a situation that fractured the community, reset player progress, and set the player experience back in ways that took us a full year to recover from and repair. It's a mistake we don't want to repeat by making a Destiny 3. We don't believe a sequel is the right direction for the game and for the past two years we have been investing all of our development effort into new content, gameplay, and new engine features that directly support a single evolving world in Destiny 2.

To create a sustainable ecosystem where the world can continue to evolve in exciting ways, and where we can update the game more quickly, we're going to adopt a new content model that we're calling the Destiny Content Vault. Each year, usually at the expansion boundaries, we will cycle some destination and activity content out of the game (and into the Destiny Content Vault) to make room for new experiences.

The first cycle of Destiny 2 content going into the Destiny Content Vault begins this fall, with the appearance of the Pyramid ships in Season of Arrivals and the Beyond Light expansion, which we revealed today. Those events will usher in dramatic changes to the Destiny universe, affecting characters, destinations, and Guardians for years to come.

To set a new maintainable foundation for the game this fall and to create room for Beyond Light and the future roadmap, the first Destiny 2 deposit into the Destiny Content Vault will be larger than those to come in the future.

Curating the Vault

Content that goes into the Destiny Content Vault may return in the future, altered (if necessary) to fit the new state of the universe. Furthermore, we consider all Destiny 1 and 2 destinations and activities part of the new Destiny Content Vault and we're going to be pulling from that archive—revisiting some of the most interesting places in Destiny's history—from now onwards. It's why the original Destiny 1 Raid—the Vault of Glass—will be returning to Destiny 2 in Year 4.

Going forward, our explicit goal will be to try to keep the scope and scale of Destiny 2 at a relatively consistent size in order to increase our agility and to be able to properly support and maintain the game. Over the course of each year, the game's content scope will grow as we add new destinations and activities in our expansions and Seasons. As we approach the next expansion, another cycle of content will go into the DCV to make way for a new influx of destinations and activities.

We will always do our best to give early notice of what's being cycled into the Destiny Content Vault, to help you and your friends plan around how you want to complete your collections and build up your account before the new Destiny year starts. The vast majority of content we choose to vault will also be from destinations and activities that have been free for all players for several months prior to their departure. For example: the Curse of Osiris campaign, which has been free since Shadowkeep launched in October 2019, and part of the Destiny 2 experience since December 2017, will go in the Destiny Content Vault later this year.

Year 4 Destiny Content Vault Preview

Here is an early preview of some of what's going into the Destiny Content Vault and what's returning in Year 4.

Returning from the Destiny Content Vault:

On September 22, 2020:

Cosmodrome as a selectable, explorable destination (but not yet at full Destiny 1 parity on September 22).

Note: We're looking to leverage Cosmodrome's initial return to expand the new Guardian origin story to the world of Destiny. Veteran players will be able to experience that story as well.
Cosmodrome's Will of Crota strike will also be added to the strikes playlist for all players.
During Season 13:

Cosmodrome will be fleshed out to roughly Destiny 1 Year 1 parity.
Cosmodrome's The Devil's Lair and Fallen S.A.B.E.R. strikes return.

During Year 4:

Destiny 1's first raid, Vault of Glass, returns.

Heading to the Destiny Content Vault:

On September 22, 2020:

Io, Titan, Mercury, Mars, and Leviathan will be cycled out and no longer be accessible.

This includes all PvE activities (including campaigns) on those destinations.

Other Key Year 4 Details:

There will be three raids playable this fall, including a new one set in the Deep Stone Crypt on Europa as part of the Beyond Light expansion.
There will be new ways to earn Exotics originally tied to destinations and activity content that have entered the Destiny Content Vault.
Available strikes will be based on a pool of possible strikes from active destinations. When a destination goes into the Destiny Content Vault, so too will its strikes.
The PvP Map playlist will remain a curated 'best of' mixture of maps from Destiny 1 and 2.
Gambit and Gambit Prime are being merged into a single mode, with their original armor visuals available to earn from the Drifter.

To be clear, the Destiny Content Vault does not apply to any weapons and armor in a player's inventory or vault. The Destiny Content Vault is about activities and destinations. We know you will have a lot of questions about how this will work. We will share more updates about our content plans throughout the summer. This includes a detailed overview of everything changing via patch notes, extensive DPS articles that will help break down what's changing and when, as well as lots of opportunities for you to ask us questions along the way.

A New Beginning

This fall, we will begin delivering on the future of Destiny by making way for new adventures, locales, and stories dreamed up by our creative team, and forging the truly evolving world that it was always meant to be. These changes allow us the freedom to finally weave an overall experience for the Destiny universe that can truly live, starting with Beyond Light. We can now fit puzzle pieces we haven't been able to pick up since the beginning of the original Destiny—including the true nature of the Darkness and Light and how such power will change you as a Guardian. We can now bring some of the greatest experiences in Destiny to the forefront of the current game alongside new ones to come.

The past six years, we've seen the Destiny universe grow and our community along with it. We want our quality of service to grow in kind, to be able to react to community feedback quicker, to innovate more often, and to continue to tell new stories with your characters. We're excited to continue that journey with you.
Here is an overview of Destiny 2: Beyond Light, via Bungie:
About

A new power is born out of the ancient Pyramid ship above Europa, and a dark empire has risen beneath. In the Destiny 2: Beyond Light expansion, Guardians will explore a changed universe, with a new destination, new adventures, and even new powers to explore.

Key Features

Explore Europa: In Beyond Light, Guardians will be called to a new destination: Jupiter's frozen moon of Europa. Brave the unrelenting glacial frontier, infiltrate the Golden Age Braytech facility, and uncover the secrets that lie deep under the ancient ice.
Wield the Darkness: As a new threat emerges, so too does a mysterious new power–Stasis. Rooted in Darkness, Guardians will wield this new elemental power alongside Arc, Solar, and Void to summon epic supers and control the battlefield. Titans, Warlocks and Hunters will each use Stasis in a different way. More details on Stasis to come later this summer.
A New Raid: Below the frozen tundra of Europa lies the Deep Stone Crypt. For decades it has remained dormant. Guardians will test their skill and teamwork in this brand new six-person raid, where glorious rewards await.
The Rise of Eramis: The splintered houses of the Fallen have rallied and built their new empire on Europa, united under the banner of the Fallen Kell of Darkness, Eramis. Abandoned by the Traveler and left by the Light, Eramis is on her own journey into the Darkness, and towards a collision course with Guardians.
Pre-orders for Destiny 2: Beyond Light are available now. Users who pre-order will receive instant access to a special "Exotic Ghost Shell" and "Legendary Emblem." For more information, visit Bungie.net.
Bungie also announced the Destiny 2 "Season of Arrivals," a new range of activities that begin today in Destiny 2. Here are the details:
About

A dark omen enters the system and a signal howls through the emptiness of space. In the shadow of the mysterious Pyramid ship, Guardians must search for answers. The ongoing narrative in Destiny's evolving universe continues with the launch of the eleventh Season: Season of Arrivals.

Starting today, players can embark on new activities to enjoy, discover new gear to pursue, and experience a new chapter in the Destiny 2 universe.

Key Features

New Dungeon: Later on today, Guardians will be challenged with a new dungeon, Prophecy, available to all Destiny 2 players. Face the mystery and unlock the new DAITO Foundry armor and reprised Trials of the Nine armor sets.
Decipher the Darkness: Throughout the Season, Messages of Darkness will be found on Io. Journey to the Cradle on Io and uncover these hidden communications.
Contact Public Event: Join Guardians in public events beneath the newly arrived Pyramid ship on Io, where an untapped power has summoned the enemies of humanity.
New Rewards: By Focusing new engrams in Season of Arrivals, players can choose their rewards. The new engram Focusing system introduces the ability (once earned) for players to fine-tune their rewards.
New Gear: Amazing new weapons await as players prepare to fend off the latest threat to humanity. Season Pass owners will instantly unlock the new Witherhoard Exotic Grenade Launcher and Seasonal armor set.

Destiny 2 is free to play and includes many of the new features being launched with Season of Arrivals. Season Pass holders have access to all activities with additional premium rewards and instant unlocks:

New weekly mission.
New Exotic weapon quest.
Instantly unlocked Exotic Grenade Launcher.
Instantly unlocked Seasonal armor sets for each class.
Bonus XP and more.
Finally, Bungie announced that Destiny 2 is coming to both PlayStation 5 and Xbox Series X. Purchases on PlayStation 4 will upgrade to PlayStation 5 for free, and purchases of Destiny 2: Beyond Light will transfer to Xbox Series X for free via Smart Delivery. More information on the PlayStation 5 and Xbox Series X versions will be announced in the coming months.
Destiny 2 is currently available for PlayStation 4, Xbox One, PC via Steam, and Stadia.
Watch a new set of trailers below. View a new set of screenshots at the gallery.
Destiny 2: Beyond Light Reveal Trailer
Destiny 2: Beyond Light Gameplay Trailer
Destiny 2: Past is Prologue Trailer
Destiny 2: Season of Arrivals Gameplay Trailer
Destiny 2: Season of Arrivals – Prophecy Dungeon Gameplay Trailer