Rumor: Pikmin 3 Deluxe coming to Switch
Another Wii U title to get the Deluxe treatment.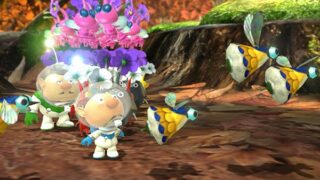 Pikmin 3, which first launched for Wii U in August 2013, is coming to Switch as Pikmin 3 Deluxe, according to VentureBeat reporter Jeff Grubb.
"But Nintendo obviously has games in the works," Grubb wrote in his coverage of today's Paper Mario: The Origami King announcement. "Intelligent Systems only oversaw Tecmo Koei's production of Fire Emblem: Three Houses because it was working on [Paper Mario: The Origami King]. Other Nintendo studios will have games ready for release soon, as well. That includes the 3D Mario remasters, but it should also include Pikmin 3 Deluxe."
Gematsu reported on the aforementioned Super Mario remasters, as well as the newly announced Paper Mario: The Origami King, back in March.
Here is an overview of Pikmin 3, via Nintendo.com:
Explore an Alien World in a Game Like No Other

In the Pikmin 3 game, players take command of three explorers and a legion of adorable Pikmin in a fight for survival. By employing the unique abilities of these tiny Pikmin creatures, players will solve puzzles, battle dangerous predators and recover food needed to save the explorers' depleted home planet.

Key Features

Discover the charming personalities of the plant-like Pikmin creatures as they come to life in multiple shapes and sizes. Five different Pikmin types, including new Rock Pikmin and Winged Pikmin, each offer unique abilities. Rock Pikmin are sturdy creatures who can be tossed at solid objects to break them down. Winged Pikmin have the ability to fly and can carry objects in the air.
Divide and conquer! Split your Pikmin squads among the three explorers to maximize your strategy.
Use the Wii U GamePad controller as an in-game camera to capture the alien-safari environment from a pint-sized perspective. Snap and caption photos, then share them via Miiverse.
Show off your skills in a variety of modes or challenge a friend in the wild and frenetic multiplayer battle mode. (Additional accessories are required for multiplayer mode and are sold separately.)
The intuitive controls of the Wii Remote and Nunchuk controllers make it easy to lead your explorers and pinpoint the location where you want to throw Pikmin.
The game can also be played off the television using only the Wii U GamePad.
Intense new challenges come to Pikmin 3 in downloadable stages! The new "Collect Treasure!" downloadable content pack for Pikmin 3 adds five remixed stages to Mission Mode. The first stage is available free of charge and is included as part of a software patch.