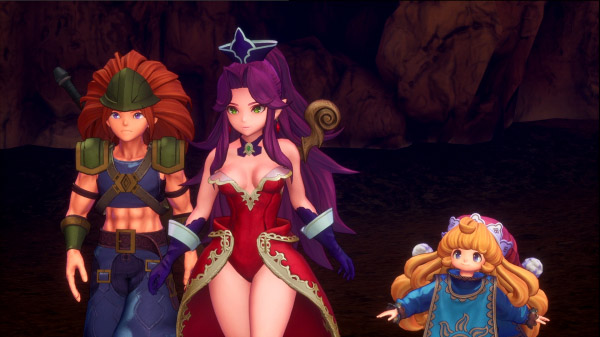 Gematsu recently spoke with Trials of Mana producer Shinichi Tatsuke, as well as Mana series producer Masaru Oyamada (producer on Collection of Mana, the Secret of Mana remake, and a number of recent Mana releases) regarding Trials of Mana.
During our discussion, Tatsuke and Oyamada discussed changes in the remake (Trials of Mana is a remake of Seiken Densetsu 3, which first launched for Super Nintendo Entertainment System in 1995 in Japan and did not release or have an official title in the west until Collection of Mana for Switch was localized in June 2019), the removal of cooperative play, how long the game takes to clear, and more.
Get the full interview below.
—Has the remake seen any changes to make the game more adaptable to those who haven't played the original or the Mana series in general? Was it difficult to find a balance between faithful recreation and new modern experience?
Shinichi Tatsuke: "Yes, we've made various adjustments. For example, in the initial character selection, we've added detailed explanations of each character's background and their unique qualities. Additionally, only the main character's prologue story could be experienced in the original game, but now you'll be able to experience your two companions' prologues as well and delve even deeper into the game's world.
"It was difficult to find that balance. There were many elements that felt perfectly natural in the original game, but felt that they could be improved upon once they were in 3D. Particularly, we found that the action elements, which were originally created using the most advanced technology available at the time, needed to be adjusted to fit a modern 3D game. As such, we incorporated additional action elements like evasion, aerial attacks, and combo attacks to match the upgraded graphics and gameplay.
"Meanwhile, we made no changes to the original game's core elements like the story and characters, instead focusing on refining the visuals to fit in with modern times."
—What challenges did you face in doing a simultaneous worldwide release? Why was that important?
Tatsuke: "Eight different languages are supported in this game, so developing them simultaneously was a challenge. However, we really wanted all the regions to be able to experience it at the same time, so we worked hard and got everything done in time."
—What went into the decision of removing co-op for the remake, and is there a chance that it will be added via an update in the future?
Tatsuke: "The original game, with its top-down perspective, included an offline multiplayer mode. This time, we used an adjustable third person perspective to enhance the feeling of being immersed in the world, so we didn't include that option. We also considered online multiplayer mode, but in order to do that, we would have had to incorporate additional elements specifically to make it enjoyable for online as well. This would have required us to split out time in creating a game that was enjoyable both offline and online. Instead, we thought that we would be able to create something better by focusing on it as a single-person game, and that's how the decision came to be. We are not planning to have multi-player added through a future update, either."
—Are the Mana games part of a shared universe?
Masaru Oyamada: "There are certain titles that are part of a shared world, but the world differs per series. They do have core aspects of the Mana universe in common, such as the Mana Tree, Mana Sword, and elementals. I hope that players will discover points that the titles have in common and let their imaginations roam."
—How long do you estimate it will take users to complete the game in terms of experiencing each character's story? Why do you think the character system is unique?
Tatsuke: "It takes about 25 to 30 hours."
Oyamada: "The story system in Trials of Mana is unique as it changes how the story plays out depending on which three among the six main characters you select. Playing with different characters allows you to enjoy new facets of the story."
Tatsuke: "Additionally, in Trials of Mana, you can choose twice whether you want to move toward the Light or Dark class, and this changes your character's qualities. Additionally, with the inclusion of the ability system in this title, there are now more differences between classes. Plus, class 4, which didn't exist in the original game, will now be introduced after the game is completed. I hope you'll experience these by actually playing the game for yourselves."
—Are there plans for any post-release downloadable content, story-related or otherwise?
Tatsuke: "Currently, there are no plans for downloadable content."
—Are there any plans to port the Collection of Mana released for Switch to PlayStation 4 and PC? Or to port the Secret of Mana remake released for PlayStation 4, PS Vita, and PC to Switch? While we're at it, what about Adventures of Mana on consoles and PC?
Oyamada: "There are many areas about which I can't go into details here, but Collection of Mana is something that was made possible with Nintendo's help, so I think it would be difficult to release it on other platforms. I would like to consider the Secret of Mana and Adventures of Mana releases if there is demand for them and if the timing is right."
—What is your favorite party of three to play as in Trials of Mana and why?
Oyamada: "Duran, Angela, and Kevin. Not only is this the party I used when I first played the original, but I also simply like how they have such high destructive power."
Tatsuke: "I would say Charlotte, Kevin, and Angela. Because Charlotte has an interesting story, and Kevin and Angela specialize in offensive attacks and fit me well."
—Does the Mana series have a future beyond the Trials of Mana remake?
Oyamada: "Of course, we are considering how we can make that happen. But first, I would love to hear what everyone thinks after playing Trials of Mana and what they are looking forward to from the Mana series."
—Before we sign off, can you share a final message with our readers?
Oyamada: "The original game was first released in Japan 25 years ago, but we made this remake while thinking about how we could make it enjoyable as a new, modern release for all the people around the world to whom we were unable to offer the original. I hope that everyone who was hoping and waiting for the title back then, as well as those who learn about it now for the first time, will enjoy the world of Mana."
Tatsuke: "The original game wasn't released outside of Japan, but we developed this remake with the intention of creating something that wouldn't feel awkward or out of place for modern-day gamers. We put in our all, and I'm confident in what we're delivering. I hope you enjoy playing."
Trials of Mana is due out worldwide for PlayStation 4, Switch, and PC via Steam on April 24. A demo with transferable save data is available now across all platforms. Read more about the game here, here, and here.