M2 to release nearly every Toaplan game for console starting 2020 in Japan
Mahjong Sisters and Enma Daiou not included.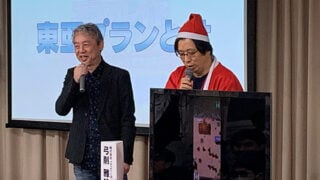 M2 will release nearly every game developed by now-defunct Japanese studio Toaplan for console starting in 2020 in Japan, the company announced at its "ESP Ra.De. Christmas Party: M2 ShotTriggers Do-Kanshasai II" event in Akihabara today.
Mahjong Sisters and Enma Daio are among the titles that M2 will not release, M2 boss Naoki Horii said, as those would be difficult to put out on console.
Toaplan operated from 1984 to 1994 and created a wide array of arcade shoot 'em up titles during its run. It also worked on other genres with titles like Wardner and Get Star, which M2 also plans to release.
Here is Toaplan's full catalog of games, via Wikipedia:
Jongou (1984)
Performan (1985)
Tiger-Heli (1985)
Jongkyou (1985)
Get Star / Guardian (1986)
Slap Fight / Alcon (1986)
Mahjong Sisters (1986)
Hishouzame / Sky Shark / Flying Shark (1987)
Wardner (no Mori) / Pyros (1987)
Kyuukyoku Tiger / Twin Cobra (1987)
Dash Yarou / Rally Bike (1988)
Hellfire (1989)
Daisenpuu / Twin Hawk (1989)
Zero Wing (1989)
Horro Story / Demon's World (1989)
Same! Same! Same! / Fire Shark (1989)
Out Zone (1990)
Snow Bros.: Nick & Tom (1990)
Vimana (1991)
Teki Paki (1991)
Ghox (1991)
Pipi & Bibi's / Whoopee!! (1992)
Dogyuun (1992)
Tatsujin Ou / Truxton II (1992)
Fixeight (1992)
Grind Stormer / V-V (1993)
Enma Daiou (1993)
Knucke Bash (1993)
Batsugun (1993)
Otenki Paradise / Snow Bros. 2: With New Elves (1994)
Thanks, @okunari.