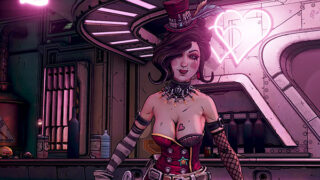 Publisher 2K Games and developer Gearbox Software have released the launch trailer for Borderlands 3 downloadable content "Moxxi's Heist of The Handsome Jackpot," which is available today for $14.99. 
Here is an overview of the add-on, via 2K Games:
After seven years on lockdown, Moxxi has asked for your help in seizing control of The Handsome Jackpot as the ultimate act of revenge against her villainous ex, Handsome Jack. He's long-dead at this point, but the former Hyperion CEO still makes his presence felt and isn't going to give up his eponymous casino without a fight. In order to get past the casino's formidable defenses—like an army of Loader Bots and various factions of stranded casino-goers—Moxxi's recruiting a team of highly skilled oddballs to take over from the inside. For more details, please refer to this blog.

Moxxi's Heist of The Handsome Jackpot is the first of four paid campaign add-ons that are included with the Borderlands 3 Super Deluxe Edition and Season Pass. The add-on is also available for individual purchase for $14.99, though you will need to own a copy of the base game to access the add-on content. In order to reach The Handsome Jackpot, you'll need to have gained access to the good ship Sanctuary III by completing Episode 5 of Borderlands 3's main story campaign.
Additionally, 2K Games announced a series of Borderlands 3 content drops coming to Twitch, which are available for free with a Twitch Prime membership. The first drop is available now, which is the "Caster Blaster" weapon trinket and three "Golden Keys." Read more about Twitch Prime content drops here.
Borderlands 3 is available now for PlayStation 4, Xbox One, PC via the Epic Games Store, and Stadia. The game's standard, Deluxe, and Super Deluxe Editions are currently on sale / will soon go on sale for up to 35 percent-off for the following dates:
Stadia: December 17 to January 7
Xbox One: December 19 to January 2
Epic Games Store (PC, Mac): December 19 to January 7
PlayStation 4: December 20 to January 6
Watch the "Moxxi's Heist of The Handsome Jackpot" launch trailer below.