Neptunia game VVVtunia announced for PS4
The series' 10th anniversary title.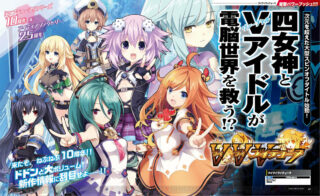 Compile Heart has announced VVVtunia, the latest entry in the Neptunia series, for PlayStation 4 in latest issues of Dengeki PlayStation and Weekly Famitsu. It will launch in 2020 in Japan, and commemorates the 10th anniversary of the series and 25th anniversary of Compile Heart parent company Idea Factory.
VVVtunia is a spin-off story where the four goddesses team up with virtual idol unit Mewtral to save the digital world of "Virtualand." Mewtral consists of six idols, only two of which have been revealed thus far (Yuu and Mii). Jin (Shizen no Teki-P) is collaborating on the game as a sound producer. Here is an overview of the story:
Planet EMO is faced with the threat of destruction by the content-destroying "Anti." The goddess Fair, who protects the planet, pins her hopes on saviors from another dimension. Neptune, Noire, Blanc, and Vert, as well as Mii and Yuu. The girls summoned to an unknown world must save Planet EMO.
Anti consists of characters named Airpuu, Armor Golem, Fake Book, and Suman Hohorn.
The four goddesses and virtual idols each have their own actions. The four goddesses fight enemies through casual shooting, while virtual idols mow down enemies with consecutive attack actions.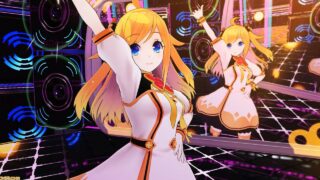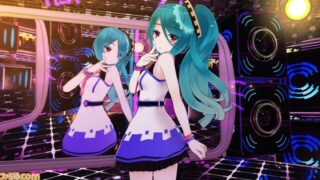 Here are a few other details:
"BeatTik" is a system where Neptune and the others dance to the beat. You can also customize their costumes and accessories.
"Douga Butler" is a system where you can scan a video to be converted into an item that can be used in the game.
Equipment consists of a cameras and guns.
There is a system, described as a step up from Photo Mode, that lets you enjoy cute videos from the characters.
Textures and other small details are being made to be close to the illustrations.
Dengeki PlayStation and Weekly Famitsu have further details on the game's story, new systems, new characters, and more, including a look at the four goddesses in their new costumes. Dengeki PlayStation's feature is 10 pages-long and also features commentary from Rie Tanaka, Nana Mizuki, Tsunako, and other Idea Factory-involved on the company's 25th anniversary.
Visit the teaser website for VVVtunia here. A teaser video, posted below, shows Neptune transport herself to a world where she is on a streaming video and looks up to see virtual idols. The video then flashes the text, "Idea Factory 25th Anniversary & Neptunia 10th Anniversary," followed by "Jin (Shizen no Teki-P)" and "Details in the November 28-due issues of Weekly Famitsu and Dengeki PlayStation."
Thanks, Dengeki Online, Famitsu, and Ryokutya2089 (2).