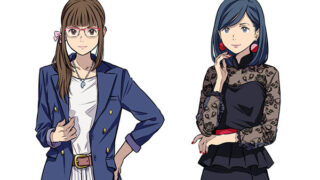 Kadokawa Games has detailed Root Film characters Shouko Manabe and Monami Haishima. They are respectively voiced by Noriko Hidaka and Yuuko Minaguchi, who return to Kadokawa Games' mystery game series following their prior roles as Aya Fumino and Shiori Yoshioka in Root Letter.
Get the details below.
Shouko Manabe (voiced by Noriko Hidaka)

Riho's manager, who got her work as the lead role in a drama. Shouko travels around Shimane Prefecture with Riho on the hunt for shooting locations.

Monami Haishima (voiced by Yuuko Minaguchi)

Assistant to Izaya Ibuse, one of the directors of the Shimane Mystery Drama Project. She also takes care of Ibuse's management duties, and has the air of a humble and mature secretary.
Root Film is due out for PlayStation 4 and Switch in spring 2020 in Japan. A western release is also planned. Read more about the game here.