Toro to Puzzle: Doko Demo Issyo debut trailer, pre-registration now available in Japan
Puzzle game due out in 2019 in Japan.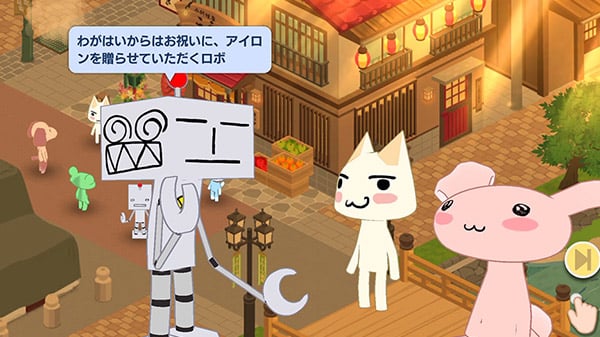 ForwardWorks has released the debut trailer and opened pre-registrations for the June-announced Toro to Puzzle: Doko Demo Issyo. Pre-registration is available via LINE (add as a friend), Twitter (follow the account), Google Play, and e-mail.
Toro to Puzzle: Doko Demo Issyo is the latest entry in the Doko Demo Issyo series, which first began on the original PlayStation in July 1999 and is celebrating its 20th anniversary this year. Here is an overview of the game, via its official website:
Story

One day, you receive an invitation to a "Hot Springs Travel Bus Tour." The destination is "Amatsusora Machi," a town surrounded by mountains and the sea, and abundant in nature, fruits, and hot springs. In this once bustling town that has lost its liveliness, you meet Toro, a cat searching for a hot spring that can turn him into a human, and Sora the town mascot cat. Here, your relaxing daily life with a tiny bit of melancholy will begin.

Puzzle

The controls are simple. Connect three or more of the same fruit pieces to erase them. Connect four or more to make various assist pieces appear. Through skillful use of these assist pieces, which can erase many pieces at once, you can chain combos.

Enliven the Town

Work together with Toro and friends and use the Sightseeing Ambassador Certificate "Stars" obtained by clearing puzzles (gathering fruits) to advance the story, walk around, and liven up the town!

Enjoy Conversation with the Pokepi

Toro, who wants to become human, wants to learn about anything and everything. Teach Toro and the Pokepi all sorts of words. The Pokepi, who love chit-chat, may even start strange conversations with the words they have learned…

Familiar Pokepi Also Appear

The cute and somewhat strange characters that are the Pocket People, or Pokepi for short, appear in Toro to Puzzle: Doko Demo Issyo, including the always pure and simpled-minded Toro the Cat. You may even feel unintended relaxation and relief in your conversations with the unique Pokepi characters.
Toro to Puzzle: Doko Demo Issyo is due out for iOS and Android devices in 2019 in Japan as a free-to-play titles with in-app purchases.
Watch the trailer below.