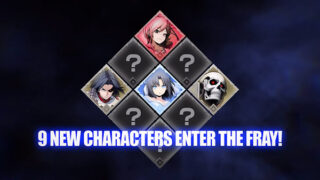 Arc System Works will announce the five remaining new playable characters part of the "Version 2.0 Content Pack" add-on for BlazBlue: Cross Tag Battle via a new trailer set to debut during its Arc Nama SP live stream on September 22 at 11:00 JST, the company announced. You will be able to watch it on YouTube, Twitch, and Niconico.
The free version 2.0 update, which is due out on November 21, will include major balance adjustments for every character. The Version 2.0 Content Pack add-on is due out on the same day for $24.99, and includes nine additional playable characters, a new scenario, and new character interactions and colors. These are the four new characters that have been announced thus far:
Yumi from Senran Kagura: Estival Versus
Blitztank from Akatsuki Blitzkampf
Akatsuki from Akatsuki Blitzkampf
Neo Politan from RWBY
If you missed it, watch the trailer introducing the above characters here.
BlazBlue: Cross Tag Battle is available now for PlayStation 4, Switch, and PC.