Ninja Box details block-making, blueprints, and runaway ninjas
Form a team of all sorts of runaway ninjas.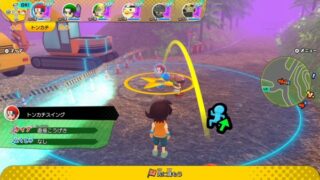 Bandai Namco has released new information and screenshots of Ninja Box, its upcoming secret base-building RPG, detailing how to make blocks, obtaining blueprints to make parts, and befriending runaway ninjas.
If you missed it, read up on our previous coverage here, here, here, and here.
Get the new details below.
Gather Materials to Make Blocks

You are going to need a lot of blocks to build your secret base. Items like cardboard and plastic bottles, which can be used as materials for blocks, can be found all over town. You can also buy them at places like the Home Center. Once you gather a bunch of materials, give them to the Ninja Box to have it create your blocks.

—Items that can be used as materials for blocks will drop all over town. Explore places like your house, the garbage dump, and the park to collect items.

—Items such as soil and rocks often drop in naturally abundant places like the park. You can also use your hammer to break the soil and rocks where your secret base is located.

—Items that you have already picked up in town or at your house will refresh after a fixed period of time. Be sure to check back often as new items may have dropped in the same spots.

Collect Blueprints to Build Parts

Once you have your blocks, you can create the parts to be placed in your secret base. To create parts requires blueprints, which can be obtained by examining things in town and completing requests for the townspeople. When you place the items you create in your secret base, you can earn money based on the number of times people view your NinTube, so place all sorts of parts to develop your secret base.

—By examining by the blue exclamation marks around town and in buildings, you can obtain blueprints for parts. Runaway ninjas may also teach you a thing or two.

—By speaking to befriended runaway ninjas with a "!" over their head, they will share blueprints for new parts.

—Once you are ready to create a bunch of parts, specify the number of items you would like to create, or use the handy "Create All at Once" feature to create using only the blocks you have.

Seek Out the Runaway Ninjas in Hiding

Runaway ninjas are hiding in town, and you will be able to befriend them by meeting certain conditions as you progress through the story. Since they are useful in fighting other runaway ninjas and defending your secret base from the villainous Bukkowa Company, you should try to be friend as many runaway ninjas as possible.

—All sorts of runaway ninjas are hiding in town. In addition to runaway ninjas you will befriend as you progress through the story, there are also runaway ninjas in hiding that blend in with the environment.

—When you find a runaway ninja, a battle will commence, and you will befriend them after you defeat them. There are also cases where a runaway ninja may require certain conditions be met before befriending them, such as giving them a password.

—Depending on the runaway ninja, an event will occur by creating certain parts, and you can befriend that runaway ninja by proceeding with the event.

Form a Team of Runaway Ninjas

The runaway ninjas you befriend will be on standby at your secret base, and by forming a team, you can battle other runaway ninjas and defend your secret base. Depending on the type, each runaway ninja has its own attack specializations, so it is important to analyze their stats and choose the right runaway ninjas for the job.

Runaway ninjas will also gain experience points and level up as they win battles. By meeting certain requirements, they will be able to change classes and power-up.

—Form a team of the runaway ninjas you have befriended. It is good to add the runaway ninjas you want to level up to your team.

—A runaway ninja's attack range depends on their type. Its range is indicated as a blue circle on the field. When an enemy enters that circle, the runaway ninja will attack.

—By meeting certain requirements, such as leveling up a runaway ninja to a specific level, you will be able to change your runaway ninja's class and power them up. It is recommended you raise all sorts of different runaway ninjas.
Ninja Box is due out for Switch on September 26 in Japan. A demo is currently available via the Nintendo eShop.
View the screenshots at the gallery.