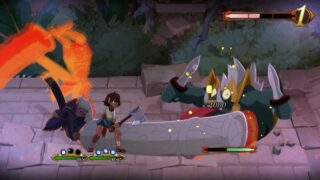 Indivisible will launch both physically and digitally for PlayStation 4, Xbox One, and PC on October 8 in North America and October 11 in Europe, followed by Switch later in 2019, publisher 505 Games and developer Lab Zero Games announced.
Steam pre-orders are available now and include bonus items such as Ajna's pet tapir Roti, which will follow players on their adventure to save the world of Loka, and exclusive character skins inspired by other Valve games, as well as a Portal Companion Cube. Pre-orders for additional platforms will begin soon.
An updated demo of Indivisible showcasing the never before seen level Tai Krung City will be playable for members of the press at Gamescom 2019, which runs from August 20 to 24 at the Koelnmesse in Cologne, Germany, and PAX West 2019, which runs from August 30 to September 2 at the Washington State Convention Center in Seattle, Washington. 505 Games describes Tai Krung City as "a bustling metropolis crammed into a narrow mountain crevice, where Ajna and her allies will take to the rooftops to explore and battle a powerful kingpin to save this city of perpetual night from total domination."
Here is an overview of the Indivisible, via 505 Games:
Created by Lab Zero Games, the developers behind the million-plus selling cult-favorite fighting game Skullgirls, Indivisible features ultra-rare, real-time party fighter mechanics. Spanning a fantastical world with dozens of playable characters, a rich storytelling experience and gameplay that's easy to learn but difficult to mater, Indivisible revolves around Ajna, a good-natured tomboy with a rebellious streak. Raised by her father on the outskirts of their rural town, her life is thrown into chaos when her home is attacked, and a mysterious power awakens within her.

The game's huge fantasy world, characters and aesthetic design are inspired by various cultures and mythologies. Throughout Ajna's quest, she'll encounter many "incarnations"; people she can absorb into herself and manifest to fight alongside her. There are many incarnations to recruit, each with their own story and personality. By uniting people from faraway lands, Ajna will learn about herself, the world she inhabits and, most importantly, how to save it.
Watch a new trailer below. View a new set of screenshots at the gallery.