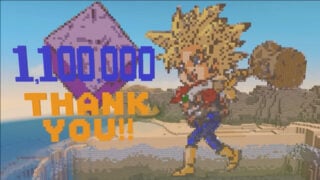 The final update for Dragon Quest Builders 2 will launch on August 20 in Japan, Square Enix announced today during a special live stream.
Here are the details:
Save Data Slots

There are now three save data slots.

Their Epilogue

By meeting the following conditions, a letter will appear in the mail. From there, their epilogue will begin…

Achieved 45 builder recipes.
Cleared the item check events for acquiring infinite materials on all Explorer's Shores.
Visited a Buildertopia at least once.

New Hairstyles Added

Four new "Villager Hair" styles have been added for both the boy and girl characters. (These will unlock after completing the "Let's Make a Room for the Villagers" builder recipe. The new hairstyles are not unisex.)

New Items to Freely Change the Weather Added

By using the items "Clear Card," "Cloudy Card," "Rain Card," "Snow Card," and "Storm Card," you can freely change the weather of the Isle of Awakening. (After obtaining the "Builder's Eye" by completing all builder recipes, talk to the glowing hammerhood to get an idea for a recipe, which will then allow you to create the cards of the Magic Workstation.)

Hero's Flag

"Hero's Flag" is a system where by holding the attack button, nearby villagers follow the protagonist. With this update, villagers other than soldiers will also follow along.

Save Up to Three Buildertopias

This will be unlocked when a certain letter arrives in the mail during the epilogue.

Other Updates

The number of rooms on an island will now be displayed on the menu screen.
Natural growth of vegetation can now be turned on or off in the "Settings" screen.
Builder's Eye cursor movement speed can now be chosen from three speeds in the "Settings" screen.
There will be arrows showing which way a villager is using an item on the guidelines of items which have direction.
Improved control stability and fixed some bugs.

1.1 Million Shipments

Worldwide shipments have topped 1.1 million units.
Dragon Quest Builders 2 is available now worldwide for PlayStation 4 and Switch.
Watch the full live stream archive below.