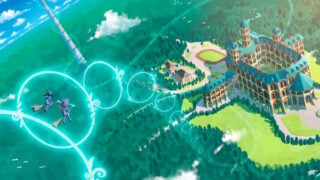 UNIVRS has launched the Kickstartter campaign for the newly announced Little Witch Academia: VR Broom Racing. It is seeking five million yen (approx. $46,386) in funding for release on PlayStation VR, Oculus Rift and Quest, and Steam VR by June 2020.
Here is an introduction to the project, via the Kickstarter page:
VR allows you to meet characters that are usually behind a screen and enter the world of that title. Many VR-related content like animations and games have been released in recent years.

We can truly meet Akko and her friends using VR Technology. However, Little Witch Academia is a story about growth. We grew along with the characters as they overcame many challenges. That's why we decided to try something even harder for this project!

We want to make the best flying experience possible with Akko and co.!

While VR loosens the restriction of a 2D screen and allows for new possibilities, it does have one big problem: motion sickness.

People can get motion sickness from VR the way they can from vehicles because their body and vision are in discrepancy as their body isn't moving even though their vision is making them feel like they are.

Because of that, many existing VR titles have limits, especially on the player's movements. In the end, many contents that are mostly about seeing rather than moving have been made, and those that are about movement are rather passive and avoid intense action.

For this project, we want to break those limits and create a flying experience where we can fly around the sky freely on magical brooms with Akko and her friends.

We don't just want to go beyond the screen, we want to create memories with Akko and co. after having a shared experience with them over there.

We here at UNIVRS have developed VR technology that prevents motion sickness and used it to create VR games. We've almost perfected the system that will let you fly in the air on a broom…! We'll do our best to jump over the technological hurdles! However, just that won't lead to huge growth for this story. We need your help and support to make Little Witch Academia VR grow even more!

We'll use this crowdfunding to bring this project not just to Japan, but to the world. We'll exhibit at events both in and out of Japan, solicit opinions about the game, and share information throughout the process as Little Witch Academia VR grows. We would like your help! Please let us know your opinions as we work on the game, what you would like to see, and more! We want to make this passion project with all of you, so please lend us your support!