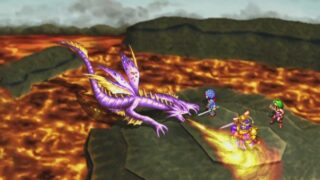 RPG Site has posted three minutes of GRANDIA HD Collection gameplay from E3 2019 alongside a new set of screenshots.
The outlet also spoke to GungHo Online Entertainment America director of game publishing Takeshi Minagawa, who offered the following tidbits of information:
GRANDIA HD Collection will be available "very soon," but Minagawa would not provide a release date or more specific window.
When asked if there are plans for a physical release, Minagawa said, "Not at all." It will be a digital-only release.
When asked if GungHo Online Entertainment would consider releasing a PlayStation 4 version, Minagawa said, "We'll think about it, but we felt the Switch was the console platform best suited for JRPGs, and we are first focused on release for Nintendo Switch and PC."
The code for Grandia is based on the PlayStation version. Update 8:50 p.m.: See clarification below.
The ports are being handled by Sickhead Games.
GungHo Online Entertainment touched up as many art assets as possible. Most of the user interface received a complete overhaul, aside from a few menu digits that could not be replaced. There is no option to use the original sprites.
In the E3 2019 show floor demo of GRANDIA HD Collection, the battle ability voices were in English despite selecting Japanese voice-overs.
The audio quality will remain the same as the PlayStation version, and no additional elements are being added to Grandia.
Asked about a potential Grandia III remaster, Minagawa said, "I cannot say. The history with Grandia III is so complicated—who distributed it, who published it, who actually has the rights. If you really want to ask that question, you'd have to go ask [original developer] Game Arts first."
GRANDIA HD Collection will be released for Switch, and GRANDIA HD Remaster will be released for PC. GRANDIA II HD Remaster is already available for PC. Read more about the collection here.
Watch the footage below. View the screenshots at the gallery.
Update 8:50 p.m.: GungHo Online Entertainment has sent Gematsu a clarification of the original RPG Site preview:
"We want to be clear, the GRANDIA HD Collection are not ports of the original PlayStation games, they are remasters," a GungHo Online Entertainment representative said. "We are using the original PlayStation code of Grandia, but working with the Sega Saturn version to craft the definitive version of this beloved RPG."
Additionally, GameXplain has posted a 10-minute gameplay video: