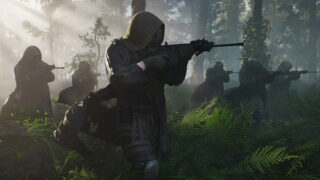 The beta test for Ghost Recon: Breakpoint will run from September 5 to 8, Ubisoft announced at its E3 2019 press conference.
The beta will let players explore the Auroa archipelago, alone or in four-player co-op, and face the renegade Wolves. The Wolves, led by former ghost Lt. Col. Cole D. Walker (played by actor Jon Bernthal), are an elite unit with the same training and skills as you, and who have also taken control of an army of military drones.
Players are guaranteed access to the beta by pre-ordering Ghost Recon: Breakpoint. Players who do not pre-order can sign up here for a chance to get in.
In related news, Ubisoft announced Ghost Recon Delta Company, a new community program that offers special content and direct discussion with developers.
Ghost Recon: Breakpoint is due out for PlayStation 4, Xbox One, and PC on October 4. Read more about the game here.
Watch a new set of trailers below. View a new set of screenshots at the gallery.
"We Are Brothers" Gameplay Trailer
"Walker Manifesto" Trailer
Jon Bernthal on Bringing Walker to Life
Delta Company Community Program Trailer