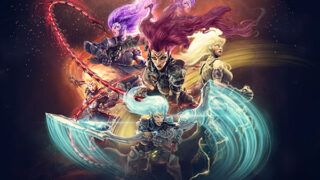 Darksiders III is now available for PlayStation 4, Xbox One, and Switch, and with it, publisher THQ Nordic has released the official launch trailer.
"The launch of Darksiders III marks the triumphant return of a classic action–adventure franchise – it has been a true labor of love for the teams at THQ Nordic and Gunfire Games," said Reinhard Pollice, Darksiders executive producer / business and product development director at THQ Nordic. "Like much of the team, I started out as a fan of Darksiders, playing on PlayStation 3 and Xbox 360 when it was first introduced in 2010. Launching Darksiders III and both of its prequels on PlayStation 4 and Xbox One X today – in 2018 – means we are not only finally satisfying an exceedingly patient and loyal fan base but also introducing a whole new generation of gamers to the fantastical Darksiders universe!"
Darksiders co-creator and developer Gunfire Games president David Adams added, "Our team has spent over a decade bringing the story of the Four Horsemen of the Apocalypse to life, and we still feel like we're just getting started. Darksiders III has been so much fun to make, and we sincerely hope our fans love it as much as we do."
Watch the launch trailer below.