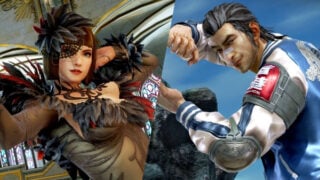 Tekken 7 downloadable content characters Anna Williams and Lei Wulong will launch on September 6 for $4.99 / 500 yen each, Bandai Namco announced.
On the same day, the game's Season Pass 2, which includes both characters in addition to Negan from AMC's The Walking Dead and three other characters that are still to be announced, will launch for $25.99 / 2,800 yen. It will also include the addition of "Simple Combos" and "Assist" features," rank system changes, point and gauge visualizations, and large-scale battle balance adjustments (including the new "Wall Bound" element).
Tekken 7 is available now for PlayStation 4, Xbox One, and PC.
Watch a new set of trailers below.
Anna Williams
Lei Wulong