Nintendo Labo Toy-Con 03: Vehicle Kit overview trailer
Latest Nintendo Labo kit due out on September 14.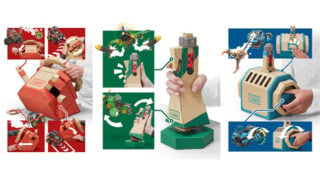 Nintendo has released an overview trailer for Nintendo Labo Toy-Con 03: Vehicle Kit, which will launch for Switch on September 14 for $69.99.
Here is an overview of what you will see in the video, via Nintendo:
A closer look at Adventure, one of the included games, in which you get to explore a mysterious world featuring pyramids, an archeological dig site, snowy mountains and much more. Use the Toy-Con Key creation to seamlessly swap between a car, plane and submarine to explore the deepest depths and highest heights of the world. Interact with a variety of intriguing characters as you explore and complete different missions solo or co-op with a friend.

Each vehicle is controlled using the various Toy-Con projects you build with the included materials in the Vehicle Kit. And each has different controls and special moves in the game – launch a grappling hook with your submarine, do a barrel roll and shoot missiles with your plane, perform wheelies and deploy saw blades or bombs with your car, and more!

Different included games offer a variety of fun experiences: In Rally, you pass through checkpoints while racing to the goal. Circuit is a racing game with a twist – you can launch punches at opponents! Slot Cars is a classic game that is controlled using only the Toy-Con Pedal. And in Battle, you can participate in one-on-one automotive combat with other players*.
Paint Studio uses the Toy-Con Spray Can to let you personalize your in-game vehicles – and the driver! Gently shake it to feel and hear the "ball" inside as you mix up the paint.
Custom Controls, a new feature for Nintendo Labo, lets you make your own controllers for the included games with common household items. Want to ride a broom to steer the plane? How about drawing button controls on a customized screen protector when playing in Handheld Mode? Go ahead! It's a great way to get started with building your own Toy-Con creations.
With the Toy-Con Car, Key and Pedal, you'll also be able to race against your friends* in the Mario Kart 8 Deluxe game for Nintendo Switch shortly after launch (Nintendo Switch and Mario Kart 8 Deluxe sold separately). Learn more about this new way to play with Vehicle Kit here.
Watch the trailer, as well as a new Japanese TV spot, below.
Overview Trailer
https://www.youtube.com/watch?v=MJgQWOlbLnM
Japanese TV Spot
https://www.youtube.com/watch?v=HoQfcoCi3Ts