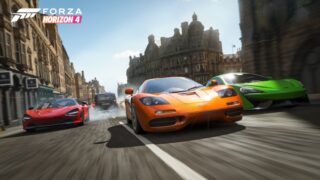 Microsoft and Playground Games released new gameplay footage and screenshots of Forza Horizon 4 at Gamescom 2018.
Additionally, Microsoft shared more information about the game's "Team Adventure" mode and announced a two Forza Horizon 4 Xbox One bundles:
Team Adventure Mode

As Forza Horizon 4 races towards launch, we got more information about Team Adventure, the new competitive multiplayer mode that allows players to team up and take on the world in races, games and frantic Freeroam Rushes. With brand new Leagues to rise through, unique rewards to be won and prestigious Grandmaster titles to aim for, start picking your teammates now and be ready when the first four-week series begins on Oct. 2 when Forza Horizon 4 launches worldwide on Xbox One, Windows 10 and included with Xbox Game Pass.

Xbox One Bundles

Pre-Order the 1TB Xbox One S ($299.99) or 1TB Xbox One X ($499.99) Forza Horizon 4 Bundle and experience a shared open world where dynamic seasons change everything. Explore Britain, collect 450 cars or choose to join team multiplayer just for fun to take on the best in the world. The Xbox One X Forza Horizon 4 Bundle brings support for native 4K resolution and HDR, and comes with a downloadable copy of Forza Motorsport 7, too.

Each bundle comes packed with an Xbox Wireless Controller, a digital download of Forza Horizon 4, one month of Xbox Game Pass and 14 days of Xbox Live Gold.
Forza Horiozn 4 is due out for Xbox One and PC on October 2. Users who purchase the Ultimate Edition will gain early access on September 28. Read more about the game here.
Watch the footage below. View the screenshots at the gallery.