CRYSTAR reveals 777 as fourth playable character
A spirit with a Guardian-esque transformation.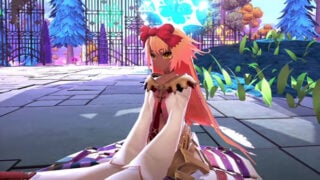 Earlier this month, FuRyu announced that its Gemdrops-developed action RPG CRYSTAR will have four playable characters and confirmed protagonist Rei Hatada, Kokoro Fudoji, and Sen Megumiba to be among them. Today, the company announced the fourth playable character is 777 (Nanana), who was previously introduced but not confirmed as playable.
Get the latest details below.
■ Story

To resurrect the little sister I killed—.

Twin demons Mephis and Pheles suddenly appear before the despairing Rei to inform her. If Rei acts as a proxy for the devil and offers up Ideas, she may be able to resurrect Mirai. Rei enters the contract ready to give up everything to save Mirai.

Rei, who will hunt spirits as a proxy for the devil, knows that they are souls of the dead aiming for resurrection, and begins to have feelings of guilt and inner conflict.

Although Rei manages to make friends like Kokoro, Sen, and 777 (Nanana), who are all fighting in limbo for various other reasons, Rei will suffer to guilt, conflict, and impatience in getting her sister resurrected.

Rei is breaking. Her bonds with her friends are distorting, and her tears are gradually drying up.

But because she cried, there must surely be a smile in her future…

■ System

Memoirs of the Dead

By collecting the "Memoirs of the Dead" from spirits, you can witness some of their memories. There are more than 90 Memoirs of the Dead, including enemy stories not told through the main scenario.

Four Playable Characters

777 (Nanana)

Weapon: Writing Materials, etc.
Style: Long-Distance Attack Type
Transformation: Epicurus

A character that mainly attacks at long distances using writing materials and the like. She specializes in magical skills, with high magic attack and magic defense. She is without a Guardian herself, but she can transform into a monster for the sake of the dead.

■ Characters

777 (Nanana)

Height: 135cm
Birthday: November 22
Blood Type: B
Gem Theme: Topaz / Yellow Oval
Symbol: Bird

A humanoid spirit who takes a liking to Rei. A dead girl.

She mysteriously favors Rei and comes to be persistently involved with her.

She possesses great power, completely changing areas of limbo to try to make Rei happy, and obstructing Rei and company's progress.

"Supporting you is exciting" is her catchphrase, and she tends to impose play-themed "games" upon Rei and company, such as tag and hide-and-seek.

Although a spirit, she becomes an agent and cooperates with Rei and company.
CRYSTAR is due out for PlayStation 4 on October 18 in Japan.
View a new set of screenshots at the gallery.