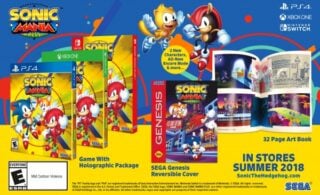 Sega has announced Sonic Mania Plus, a physical release version of Sonic Mania with new features. It will launch this summer.
The packaging will feature a holographic slip cover, reversible Sega Genesis / Mega Drive-branded sleeve, and 32-page Sonic Mania art book. It will cost $29.99.
Sonic Mania Plus will feature two new playable characters (Mighty the Armadillo and Ray the Flying Squirrel), an all-new "Encore Mode," and an expanded four-player "Competition Mode."
Users who already own Sonic Mania will be able to get the new content of Sonic Mania Plus via the "Encore" downloadable content pack, the pricing of which will be revealed at a later date.
Pre-orders will open on March 19.
View a set of images at the gallery.
Update 03/19/18: Here is the fact sheet, via Sega:
About

Sonic Mania Plus is the definitive retail enhanced version of the original Sonic Mania's digital release, presented in a pristine collectible physical release. Building off its momentum and critical acclaim as one of the best platform games of 2017, the nostalgic pixel-perfect visuals and fresh gameplay will deliver a classic experience to gamers across the world! See why Sonic Mania was declared as the "Best Sonic game ever!" by GameSpot, and a blazing example of why Sonic the Hedgehog continues to break barriers over the course of 25+ years as one of gaming's most iconic characters of all time!

Key Features

A true, classic Sonic experience: Gorgeous pixel graphics featuring a variety of new Zones with iconic favorites from Sonic 1, 2, 3, Sonic & Knuckles, and Sonic The Hedgehog CD.
Definitive version: Pixel-perfect HD visuals, 60 FPS gameplay and all new content in one package! Join Sonic and his friends as they face off against Dr Eggman and his new robo-henchmen the Hard Boiled Heavies!
New playable characters join the fun with Sonic: Seen in past Sonic titles, Mighty the Armadillo and Ray the Flying Squirrel join the Mania each with their own unique abilities!
All-new Encore mode: A new mode that adds a fresh look to familiar locations while challenging new and veteran players alike.
New and improved features including Competition mode.