Octopath Traveler launches July 13
Limited edition also announced.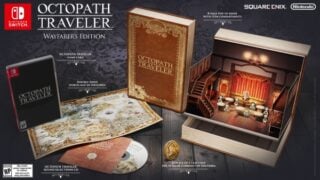 Octopath Traveler will launch worldwide for Switch on July 13.
A "Wayfarer's Edition" limited edition including a stylized pop-up book, cloth map, sound selection CD, and replica coin based on the in-game currency will also be available.
Square Enix also shared three new news items:
Tressa the Merchant – She sets off to find her own adventure and gain experience in her job. Her path action is "Purchase," which allows her to obtain special items from townsfolk.
Alfyn the Apothecary – He embarks on a journey to heal those suffering across the continent. His path action is "Acquire," which allows him to get info others are not privy to in conversations.
Jobs in Battle – Characters have a base job, but can also equip a sub-job to use in battle. Jobs can be combined to expand strategic options.
Watch a new set of videos below. View a new set of images at the gallery.
Paths of Purchase and Potion Info
March Overview Trailer
Web Commercial Vol. 1