The Last of Us Part II Paris Games Week 2017 trailer
Five minutes of the upcoming sequel.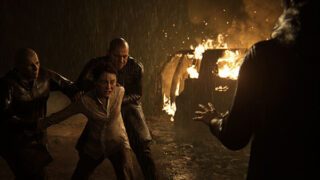 Sony Interactive Entertainment and Naughty Dog debuted a new trailer for The Last of Us Part II during the PlayStation Media Showcase at Paris Games Week 2017.
Here's Naughty Dog creative director Neil Druckmann on the trailer:
At its core, The Last of Us is still very much about Ellie and Joel, but for this reveal, we wanted to showcase several new characters that are integral to their next journey. We're sure you have many questions after watching this scene. We're also pretty sure that we're going to see all sorts of theories about whom these characters are, where and when this scene takes place, and how all of this fits into Ellie and Joel's next story. For now we're keeping mum, but we're excited to see what y'all make of this piece of the puzzle.

With all of Naughty Dog working on The Last of Us Part II, we're making great headway into the project. From art, technology, gameplay, and story, this is by far our most ambitious game yet. You're in for an intense, beautiful, harrowing, and emotionally moving ride. We're extremely proud of the game we're crafting and can't wait to show you even more – and we promise you won't have to wait as long for the next big reveal!
The Last of Us Part II is in development for PlayStation 4. A release date has yet to be announced.
Watch the trailer and a developer interview below. View a new set of screenshots at the gallery.
Trailer
Interview