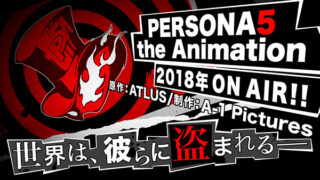 Atlus has announced a Persona 5 TV anime from A-1 Pictures called Persona 5 the Animation. It will air in 2018.
The voice cast is carried over from the game:
Protagonist (voiced by Jun Fukuyama)
Ann Takamaki (voiced by Nana Mizuki)
Ryuuji Sakamoto (voiced by Mamoru Miyano)
Morgana (voiced by Ikue Otani)
Yusuke Kitagawa (voiced by Tomokazu Sugita)
Makoto Niijima (voiced by Rina Sato)
Futaba Sakura (voiced by Aoi Yuki)
Haru Okumura (voiced by Haruka Tomatsu)
Goro Akechi (voiced by Soichiro Hoshi)
Watch the teaser trailer below.
(MP4 Download, Region-blocked YouTube Version)