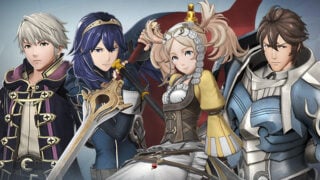 Koei Tecmo has updated the official Japanese website for Fire Emblem Warriors with information and screenshots of recently announced playable characters Robin (Male), Lucina, Lissa, and Frederick.
Get the details below.
Robin (Male) (voiced by Yoshimasa Hosoya)

He lost his memory and was rescued by the Shepherds when lying unconscious, before joining their cause.

Lucina (voiced by Yuu Kobayashi)

She wears a mask and calls herself "Marth." Wielding the Falchion, a sword of which only one should exist in this world, she gets involved in Chrom and the others' dilemma.

Lissa (voiced by Kana Asumi)

Chrom's younger sister, and princess of the Halidom of Ylisse. A member of the Chrom-led Shepherds, she can sometimes be selfish, but has a kind heart.

Frederick (voiced by Daisuke Ono)

A knight of the Halidom of Ylisse. The deputy of the Chrom-led Shepherds. He is has a serious and honest personality, and is strict with both himself and others.
Fire Emblem Warriors is due out for Switch and New 3DS on September 28 in Japan, and this fall in North America and Europe.
View the screenshots at the gallery.