Terra Battle 2 announced for PC and smartphones
And a little-detailed Terra Wars is also in development.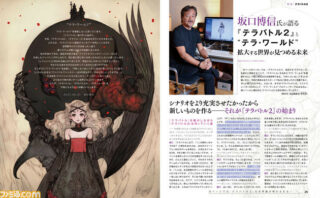 The latest issue of Weekly Famitsu reveals Terra Battle 2 for PC, iOS, and Android, and another game called Terra Wars for unannounced platforms.
Terra Battle 2 is a joint development effort between Mistwalker—who are handling the images, sound, and scenario—and Silicon Studio—who are in charge of programming and materials—and will launch as a free-to-play title with microtransactions in Japan in 2017.
The basic gameplay system of Terra Battle 2 sees players move units on a grid-based field, and if an enemy enters their target square, a battle will begin. Rather than attach a growth element to the player character itself, players will strengthen their characters through elements such as equipment and guardians. You can have up to four party members.
The story of Terra Battle 2 will be about 50 chapters in length. Mistwalker president and CEO Hironobu Sakaguchi said he would like to distribute it in the format of a television drama, for example by releasing one new chapter every Friday.
Terra Wars is game where Terra Battle characters appear as claymation. About 2,000 photographs taken from eight directions are being used as image data for a single character. As for the nature of the game, Sakaguchi said, "I would like you to use your imagination based on the title." More information will be released following the launch of Terra Battle 2.
Sakaguchi also discussed his desire to build a "Terra World." For example, Terra Battle 2 and Terra Wars share the same concept as Terra Battle while having completely different world views and scenarios, and introducing new systems. They are part of the same "Terra World."
Sakaguchi wants to build up the "Terra World" in the same way as his previously established franchise, Final Fantasy—the world view, scenario, and characters differ for each numbered title, but the foundation for each story is the same, and the systems and scenario gradually change over the course of each title. Sakaguchi wants to release around nine titles in the "Terra World."
As for the first Terra Battle, the release of a sequel will not mark the end of the first game. Service will still continue, and a major update is planned for the end of June with content comparable to last year's summer update.
Thanks, Famitsu, Games Talk, and Hachima Kikou.