Arms adds free DLC character 'Max Brass' in July [Update]
The first of Arms' free fighter additions.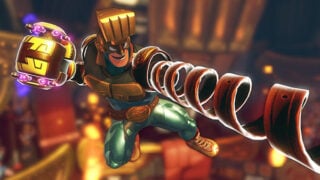 Nintendo announced Arms' first free downloadable character "Max Brass" during its E3 2017 Treehouse live stream. He will launch in July.
Max Brass is just one of several planned software updates to Arms, which will add new fighters, stages, and Arms to the game.
Arms is due out for Switch tomorrow, June 16.
View screenshots of Max Brass at the gallery.
Update: Watch some new footage, including a demonstration of Max Brass, below: